Allentown, Pa., July 8, 2010 – The Better Living Mill Shop in Troy, Va., recently was LEED Certified for new construction by the U.S. Green Building Council under its Leadership in Energy and Environmental Design (LEED) Green Building Rating System. It is said to be the first industrial building in central Virginia to earn LEED certification in the LEED New Construction Green Rating System.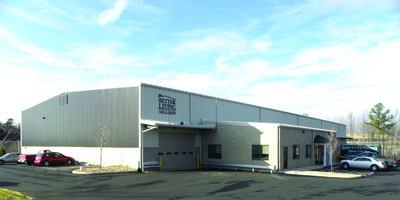 The 25,955-square-foot facility makes a vivid energy-efficiency statement with InSpire wall panels from ATAS International, Inc. The southern wall of the building is clad in 2,240 square feet of InSpire. The wall panels are 0.032-aluminum in a highly absorptive Classic Bronze color. Coupled with energy-efficient lighting, an efficient HVAC system and high-performance insulation, the InSpire wall system contributes to a 47 percent reduction in annual energy bills for Better Living compared to similar buildings.
The InSpire system consists of transpired solar collector metal wall panels mounted a few inches from a building's outer wall. The perforations in the wall panels allow outside air to travel through the face of the panels. Solar heated air at the surface of the panels is then drawn through the perforations where it rises between the two walls and enters the building's ventilation system. In the summer, InSpire helps to keep the building more comfortable by preventing normal solar radiation from striking the building's main wall. Hot air is thermally siphoned up the wall and vented through holes at the top of the system, leaving the main wall cooler. In the summer, by-pass dampers allow cool fresh air to be drawn into the building at night, maintaining indoor air quality and temperature.
"The southern wall collects solar heat for use inside the facility, reducing the use of the traditional HVAC system," explained Jim Bush, vice president of sales for ATAS. "We are proud that ATAS and its InSpire wall panels have helped to create an energy-efficient building for Better Living, as well as to bring a LEED facility to central Virginia."
This project and ATAS were recognized in late 2009 when awarded the 2009 Governor's Environmental Excellence Award—the Silver Medal Winner in the Environmental Project Category—by the state of Virginia. Other recipients included the project team, featuring architectural firm The Gaines Group, PLC, Charlottesville, Va.; builder, Mathers Construction, Waynesboro, Va.; and MEP engineer, F7 Engineers, Charlottesville.
Together, this team created a building with sustainable features, including:
Transpired solar collector
Energy-efficient lighting
Efficient HVAC system
High-performance insulation strategies
Water-efficient fixtures
Recycled content materials
95,000-gallon rain water collection system
Charles Hendricks, AIA, CSI, CDT, LEED AP, of The Gaines Group, said: "These fundamental design elements provide a positive return on investment, not only for Better Living's bottom line but for the resources available to future generations."
ATAS International, Inc
Founded in 1963, ATAS International, Inc., a leading manufacturer of metal roofing, wall and ceiling panels, produces systems for commercial and residential buildings. The ATAS product line offers more than 20 profiles available in aluminum, steel, zinc and copper. These profiles include: standing and batten seams; corrugated; curved; tapered; shingles; tiles; shakes; mansards; and narrow or wide ribbed panels with hidden or exposed fasteners. Rainware, crown moulding and perimeter edge trim are also available with the same finish to match or accent a roofing or wall system. ATAS offers energy efficient building envelope technology, such as cool roofing products that are ENERGY STAR® qualified and InSpire, the transpired solar collector, which utilizes precision perforated metal panels to preheat ventilation air via solar energy. ATA-Solar, a building integrated photovoltaic product complements ATAS' sustainable product offerings. Profiles are coated with a Kynar 500® PVDF or Hylar 5000® PVDF finish in 30 standard colors. ATAS has four manufacturing facilities in the United States: two facilities, including the headquarters, in Allentown, Pa.; one in Maryville, Tenn.; and one in Mesa, Ariz. All ATAS locations are certified to ISO 9001:2008 with design.
---
Comments (0)
This post does not have any comments. Be the first to leave a comment below.
---
Post A Comment
You must be logged in before you can post a comment. Login now.
Featured Product
The Sunny Boy 5.0-US / 6.0-US features a wealth of improvements and joins SMA's lineup of field-proven solar technology backed by the world's #1 service team. The world's first Secure Power Supply now delivers up to 2,000 W of opportunity power when the grid goes down and the sun is shining. Installation has never been easier thanks to SMA's Installation Assistant, direct access via smartphone, and integrated DC disconnect. The Sunny Boy's multiple independent input channels, each with SMA's OptiTrac™ Global Peak, mean hundreds of stringing configurations for flexible system design while solving the challenges of complex roofs and shading. The residential PV market is changing rapidly, and we understand that your bottom line matters more than ever. That's why we've designed a superior residential solution that will help you decrease costs throughout all stages of your business model. The Sunny Boy 5.0-US and 6.0-US are once again raising the bar by offering improved performance, enhanced features, and most importantly, cost savings across the entire spectrum of residential installation processes.