A new type of environmentalist is emerging, using nanotechnology based products as a way of reducing their impact on the environment and reducing their energy use in a variety of ways.
NanoPioneers Are Becoming the New Environmentalists
Francesca Crolley | Industrial Nanotech, Inc.
Environmentalists in their various forms have been around for many years. They promote sustainable living, driving hybrid vehicles and reducing our impact on the environment in a variety of ways. The environmental message is one that has fast been coming to the forefront of conversations by government officials and those lawmakers enacting laws to target reducing carbon emission and increasing energy efficiency.
A new type of environmentalist is emerging in the 21st century and they call themselves "NanoPioneers."
NanoPioneers are those who are using nanotechnology based products as a way of reducing their impact on the environment and reducing their energy use in a variety of ways. The company who coined the term to describe their customers is Industrial Nanotech, Inc. who created a patented line of residential, commercial and industrial thermal insulation coatings called Nansulate® which are revolutionizing the way that the world insulates homes, buildings, and equipment like tanks and steam pipes.(www.nansulate.com)
Nanotechnology simply refers to manipulation of materials at the nano-scale level, which is just below the micro level. By manipulating materials at the nano level new performance characteristics emerge, and new materials are able to be created with less waste. Nanotechnology is being used to enhance solar panels, fabrics, machine parts, medical devices, building energy efficiency, and more. And as more is discovered in the realm of nanotechnology, it is found that by duplicating what nature already does (building materials from the molecular level upwards) we can create materials and processes that are more earth friendly, and create materials which provide means to sustainability which were not easily accessible in the past.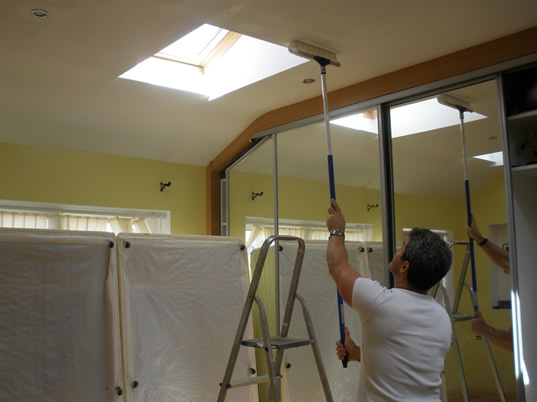 NanoPioneers who are using this technology to reduce their energy use come from all walks of life. Evelyne Tinkl, a homeowner in Mohnton, Pennsylvania coated the interior walls of her 80 year old house with the insulation coating, and reduced her heating expenses by 20% last year, while also keeping her thermostat a bit higher for a more comfortable winter.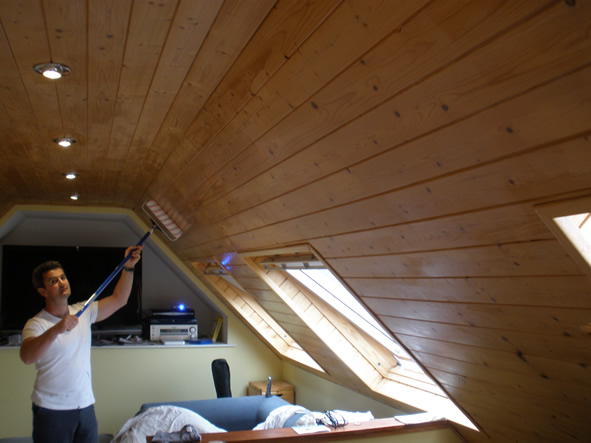 In Davenport, Iowa a civil engineer insulated his home's attic, wood exterior doors and skylights with the coating and charted a savings of 40% during the summer months. These both illustrate the typically reported range of energy savings between 20%-40%. A Berkeley, California homeowner, Robin Wright, decided to try coating vertical blinds that covered two large single paned windows in her bedroom and was able to reduce the heat gain during the summer, which lowered cooling costs.
From Florida to Washington state, NanoPioneers are a growing segment who are finding that new technology can hold the key to saving money while also being environmentally friendly. Case studies can be found at: http://www.nansulate.com/nansulate_residential_casestudies.htm and testimonials can be found at: http://www.nansulate.com/nansulate_residential_testimonials.htm.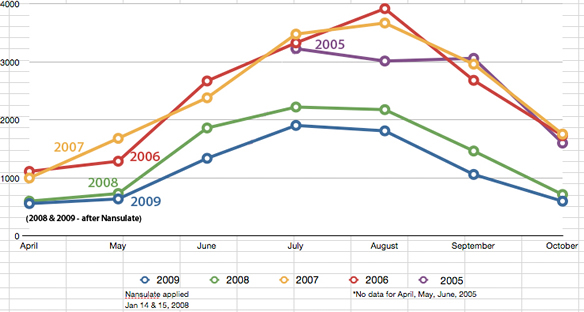 Companies are also being added to the NanoPioneer ranks, like Cornwell Quality Tools in Mogadore, Ohio who coated their factory windows with Nansulate® Transcluent GP coating as part of a facility energy efficiency project, which included other initiatives such as moving to smaller overhead door areas. Their complete project saved them $30,000 in energy costs over the first four months. Another pioneering company, Henateks, who is a textile manufacturer for Nike and Adidas, among others, used the nanotechnology based coatings throughout their facility and reduced their energy costs by 20% in 2008. Which equated to a dollar savings of over $460,000 and reduced consumption of liquid natural gas by 1,097,447 m3. (Further detail on this cast study can be found at: http://www.nansulate.com/pdf/TekstilTeknikDec2009.pdf.
The delivery system for the nanotechnology based material is what makes the technology so versatile. The water-based acrylic latex system applies easily, like a paint, and is low VOC and environmentally friendly. Additionally, the system is translucent, allowing it to be used over surfaces without changing the look, and being nearly invisible. Architects and building designers have also latched onto this technology as a way to easily increase the thermal envelope of a building by painting a thermal barrier onto walls, ceilings, ductwork and roofs.
As GREEN and SUSTAINABLE move from buzzwords into the every day lexicon of governments and companies around the world, nanotechnology is fast joining the mix as the science that is bringing about new sustainable solutions. Environmentalists must now move over for the new eco-warrior on the block, which is the NanoPioneer.
---
Comments (0)
This post does not have any comments. Be the first to leave a comment below.
---
Post A Comment
You must be logged in before you can post a comment. Login now.
Featured Product
You haven't installed a tile mount that is easier to install than the Solar Tile Mount manufactured by TRA Snow and Sun. Solar Tile Mount is used on all tile roof profiles: flat, mid, and high. It is made in the USA of aluminum alloy for strength and excellent corrosion resistance. Solar Tile Mount is built to allow more ease in installation with more rise from the tile surface to the rail for better air flow below panels. The adjustable base is longer than most allowing attachment 6" to the left or right to have the bracket in the base of the pan of the tile and still fasten to the rafter. Solar Tile Mount is adjustable for counter batten systems from ¾" to 3". The horizontal rail is directly above base fasteners giving greater uplift resistance than any other system. For superior waterproofing apply TRA Snow and Sun's butyl backed VersaFlash aluminum flashing. No tile flashing is needed on top of the tile for greater labor and material cost savings.