The West County Wastewater District, located on the San Francisco Bay, provides wastewater collection, treatment, and disposal services for several cities and parts of Contra Costa County. In adopting solar energy, the agency was interested in the long term cost-saving benefits a solar PPA afforded and its no-money down approach. The solar PPA was an excellent solution: the wastewater district pays only for the power the system produces, does not incur operation and maintenance expenses, and sees savings on its electricity bill for the next twenty years-a plus for the District's ratepayers.
Case Study From Solar Power Partners
Sierra Fong | Solar Power Partners
Project location: Richmond, CA
Project budget: Undisclosed, but was funded via solar Power Purchase Agreement, with a mixture of construction debt, term debt, and tax equity from leading investors.
List of Products used: 89 ET Solar dual axis trackers with 56 Suntech 200's or 210 modules per tracker, Satcon Inverters.
The project faced several technical challenges. Situated on Bay mud, the area required a design that would ensure distributed weight. West County Wastewater District also wanted to utilize storm runoff ponds-which would require a design that could withstand standing water during the rainy season. Finally, the solar trackers needed to accommodate removal (if required) without impact to the land.
SPP's in-house construction management team drew upon over thirty years of experience with a variety of construction methods to solve the technical obstacles. SPP worked with EPC partner Premier Power to design the solar structures to be dimensionally stable without causing differential settlement. Geotechnical engineering firm Questa Engineering contributed a controlled-density fill (CDF) sub-foundation to control the spread of weight.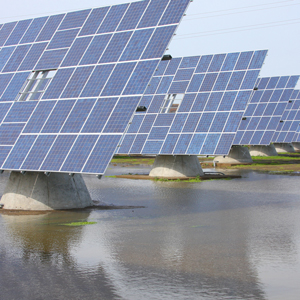 The iconic 1.014 MW system is the largest system of its kind in the United States, and a visually stunning example of partnership between public and private entities. The system was built in just four months after engineering challenges were solved, and the result is an industry award-winning system that generates fixed-price solar power. It has won the 2009 CASA (California Association of Sanitation Agencies) Outstanding Capital Improvements Project Award and the annual estimated production from the system is equivalent to removing the following emissions from: 1,308 metric tons of carbon dioxide, 181 homes' electricity use, and 148,468 gallons of gas.
---
Comments (0)
This post does not have any comments. Be the first to leave a comment below.
---
Post A Comment
You must be logged in before you can post a comment. Login now.
Featured Product
3M™ Extreme Sealing Tape is a family of single coated, pressure sensitive adhesive tapes designed for difficult sealing applications. The backing on this tape is an ionomer film that is very tough yet flexible and abrasion resistant. The very soft and thick acrylic adhesive has excellent sealing properties and good outdoor durability. This single coated tape is designed to seal over an existing joint, seam, or penetration. The adhesive is designed to adhere well to the ionomer film so that overlapping tape joints can be made while maintaining a strong seal. 3M™ Extreme Sealing Tape - instant sealing that rolls on fast and looks good.