The CLEARgen™ unit is comprised of nine - 150 kilowatt PEM modules including the air delivery, cooling, fuel delivery and power electronics systems resulting in a one megawatt fuel cell power system.
Case Study: Peak Demand Management with Fuel Cells
Contributed by | Ballard Power Systems
The one megawatt fuel cell system installed at FirstEnergy Corp.'s Eastlake plant, east of Cleveland, Ohio, has entered its first season of operation.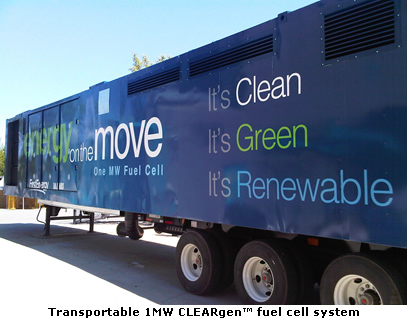 The U.S. utility activates the hydrogen-fuelled generator - known as CLEARgen™ and based on Ballard's proton exchange membrane (PEM) technology - during periods of peak demand, taking strain off the power grid and ensuring uninterrupted power to customers.
The CLEARgen™ unit is comprised of nine – 150 kilowatt PEM modules including the air delivery, cooling, fuel delivery and power electronics systems resulting in a one megawatt fuel cell power system. The system is packaged in a mobile trailer for ease of transport. This trailer can be relocated to other sites on a seasonal basis, providing power when and where it's needed.
Over the next five years, FirstEnergy will test performance of the system in real-world operating conditions to better understand its capability to provide generating capacity late afternoon to early evening from May to September, when electric use is the highest. In addition, the operating data will be evaluated in collaboration with the Electric Power Research Institute (EPRI).
The system helps utilities such as FirstEnergy:
meet peak power demand at individual utility substations while deferring central generation expansion,
improve grid reliability during periods of high demand,
improve air quality when compared to traditional peaking units by avoiding emissions of nitrogen oxides, sulfur dioxide and particulate matter, and
understand future grid integration opportunities for fuel cell technology combined with other renewable energy sources
Because fuel cells use hydrogen to generate electricity - producing only heat and water as by-products - they are a far more environmentally-friendly means of generating power than diesel or coal.
Finding new sources of clean, renewable peaking energy is important for utilities looking to meet customers' energy needs and increasingly stringent environmental requirements. In the future, utility scale fuel cell systems could be integrated into a smart grid electrical network at neighborhood substations, or could power a business expansion. Such arrangements also reduce the need to build out extensive transmission lines.
Not only is Ballard's CLEARgen™ useful for utilities, it can also provide a clean energy solution to remote communities in Canada and around the world, which are too far from the electrical grid and forced to rely on noisy, dirty diesel generators for power.
It's also capable of running off by-product hydrogen from chemical plants to generate clean electricity for sale to the power grid or to power the plant.
| | |
| --- | --- |
| System power output: | 1MW, enough to power more than 600 homes |
| System size: | 54-feet long |
| System efficiency: | >46% |
| Fuel cell power system: | Nine – 150kW proton exchange membrane (PEM) power modules |
| Inverter: | Converts power for 640-volt DC to 380-volt AC |
| Transformer: | Step-up to 480-volt, three-phase AC power |
| Hydrogen supply: | Liquefied hydrogen delivered to site |
| Installation complete: | October 2010 |
---
Comments (0)
This post does not have any comments. Be the first to leave a comment below.
---
Post A Comment
You must be logged in before you can post a comment. Login now.
Featured Product
The Sunny Boy 5.0-US / 6.0-US features a wealth of improvements and joins SMA's lineup of field-proven solar technology backed by the world's #1 service team. The world's first Secure Power Supply now delivers up to 2,000 W of opportunity power when the grid goes down and the sun is shining. Installation has never been easier thanks to SMA's Installation Assistant, direct access via smartphone, and integrated DC disconnect. The Sunny Boy's multiple independent input channels, each with SMA's OptiTrac™ Global Peak, mean hundreds of stringing configurations for flexible system design while solving the challenges of complex roofs and shading. The residential PV market is changing rapidly, and we understand that your bottom line matters more than ever. That's why we've designed a superior residential solution that will help you decrease costs throughout all stages of your business model. The Sunny Boy 5.0-US and 6.0-US are once again raising the bar by offering improved performance, enhanced features, and most importantly, cost savings across the entire spectrum of residential installation processes.