Lithium-ion technology is currently more economically and environmentally viable than other existing battery technologies. It will likely be both the present and the future of sustainable storage of renewable energy and mobile power solutions.
Lithium-ion batteries for efficient storage of renewable energy and mobile power solutions
Rikke Thorslund Madsen | Clayton Power
Since lithium-ion batteries first appeared in the 1990s, continual improvements have made the technology most popular on several accounts. Compared to other battery types the high electrochemical potential and energy density of lithium make lithium-ion batteries a most efficient solution for storage of renewable energy and mobile power solutions while leading to lesser strain on the environment.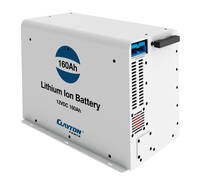 Lithium-ion battery solutions may be connected to fuel cells, solar panels, and other renewable energy sources, store the energy, and keep it available on demand. Low self-discharge rates of 2-3 % per month ensure a fuller utilization of the stored energy compared to traditional lead- and nickel-based batteries, and lithium-ion batteries tolerate incomplete charge/discharge without permanent capacity reduction. They require no maintenance, and a durability of up to 3.000 charge/discharge cycles means economic viability as well as less frequent disposal needs and thus reduced environmental strain.
A danger of lithium batteries has been overheating, causing batteries to ignite or explode, and so intrinsic safety is a key issue. The Danish company Clayton Power has just launched a new line of lithium batteries with an improved intelligent built-in Battery Management System. The BMS automatically stabilizes and balances voltage and temperature of individual lithium cells to ensure optimal performance, while a MOSFET-based Safety Breaker prevents shorts for the safe and easy use of the batteries. The batteries come in 12V and 24V versions, and a complete solution including an inverter powers 230V as well.
As lithium is a highly reactive metal, small quantities may generate high voltages. Lithium-ion batteries are smaller and lighter than other conventional battery types and therefore ideal for mobile power solutions as well as renewable energy storage. In vehicles they may be charged from the alternator while driving and recycle excess heat energy while a built-in Battery Separator takes care of the starter battery.
Lithium-ion technology is currently more economically and environmentally viable than other existing battery technologies. It will likely be both the present and the future of sustainable storage of renewable energy and mobile power solutions.
Here is an example to help you understand the benefits of Lithium-ion Solutions
BAG, The German Federal Office for Goods and Transport conducts many control tasks around the country and has been wanting a stabile, long-lasting power supply for vehicles staying on the road throughout the day. Now they have it.
Previously, the Federal Office got by with traditional batteries and a fuel cell. But the solution could hardly meet the demands for power supply as the vehicles receive no external power supply during the day and spend a good amount of time parked at checkpoints without further possibility of recharging. The batteries were only partly and insufficiently charged while driving to and fro. Furthermore, the Federal Office had to tolerate the expenses of having to keep buying methanol supplies for the fuel cells, etc.

The newly installed Clayton Power lithium power solution does the job. With a lithium ion battery which is easily and speedily charged from the alternator while driving it provides a whole new power experience. It is a long-lasting one-time expense which obviates the fuel cell and is expected to work for years without problems or maintenance.
Clayton Power
Mobile and off-grid power systems based on lithium ion battery technology. Industries: Automotive, Industrial, Maritime, Military, Renewable Energy. Products: Lithium Ion Batteries, Sine Wave Inverters, Inverter/Chargers, Battery Management Systems, Controllers.
Other Articles
Clayton Power made it possible for Per Aarsleff to both go green and reduce costs by clever implementation of mobile hybrid power systems based on lithium technology.
---
Comments (0)
This post does not have any comments. Be the first to leave a comment below.
---
Post A Comment
You must be logged in before you can post a comment. Login now.
Featured Product
The Sunny Boy 5.0-US / 6.0-US features a wealth of improvements and joins SMA's lineup of field-proven solar technology backed by the world's #1 service team. The world's first Secure Power Supply now delivers up to 2,000 W of opportunity power when the grid goes down and the sun is shining. Installation has never been easier thanks to SMA's Installation Assistant, direct access via smartphone, and integrated DC disconnect. The Sunny Boy's multiple independent input channels, each with SMA's OptiTrac™ Global Peak, mean hundreds of stringing configurations for flexible system design while solving the challenges of complex roofs and shading. The residential PV market is changing rapidly, and we understand that your bottom line matters more than ever. That's why we've designed a superior residential solution that will help you decrease costs throughout all stages of your business model. The Sunny Boy 5.0-US and 6.0-US are once again raising the bar by offering improved performance, enhanced features, and most importantly, cost savings across the entire spectrum of residential installation processes.