Company Name: Northwest Washington Electrical Industry Joint Apprenticeship and Training Committee – (NW WA Electrical Industry JATC) – We are a training center for Electricians, both Apprentice and Journeyman supported by Cascade Chapter NECA and Local #191 IBEW – both Everett, WA.

Contact: Ryan Bradt

Phone Number: 425 210 9105

Website address: nwejatc.org
Project location: Training Center in Mount Vernon, WA

Project budget: $45,000

List of Products used:
The System includes (20) 195W Silicon Energy Cascade Series modules and a SiE 4.2KW Inverter system. The entire cost of the system including structure, foundation and all electrical equipment was about 45K. The System faces West to matching the building structure and direction on the parking lot, because of this we estimate an annual production of around 3000 – 3500 KW/hrs annually. Mounted beneath the carport are two Electric Vehicle charging stations manufactured by Coulomb Technologies. The stations offer Level 1&2 charging capabilities and can be accessed with a simple swipe of a credit card. All of the equipment was manufactured in the US with the Modules and Carport structure both coming from Local manufactures – Modules from Silicon Energy – Marysville and Carport from Crystalite – Everett. The project was funded by the Labor Management Cooperative Committee of Cascade Chapter NECA and Local #191 IBEW as a demonstration project for training.

Unusual situations or problems: The foundation for the carport structure was very involved and large, and had to be engineered to handle the weight of glass-on-glass modules.

Summary: The carport was designed to demonstrate PV and EV technologies together, as well as a training piece for the school. We offer both training in Electric Vehicle Supply Equipment Installation (EVITP Certification) and PV Installation & Design. The project was designed in-house by myself and engineering and structural fabrication was completed by Crystalite of Everett, WA. Installation was done by staff here at the training center – all electricians. At this time no one on staff has an EV but a few of us are watching the market and anticipate a purchase in the next year.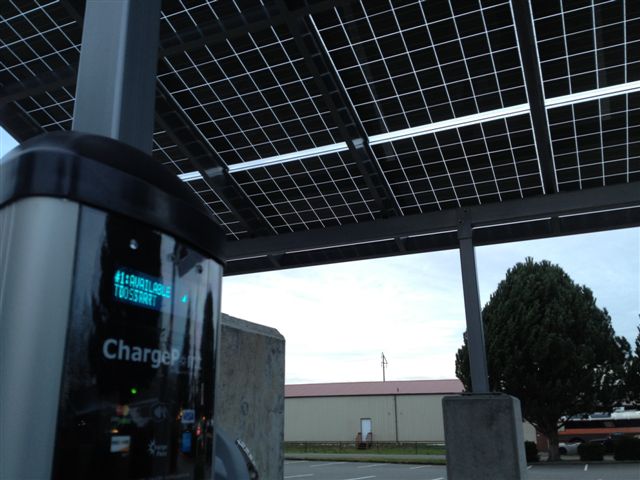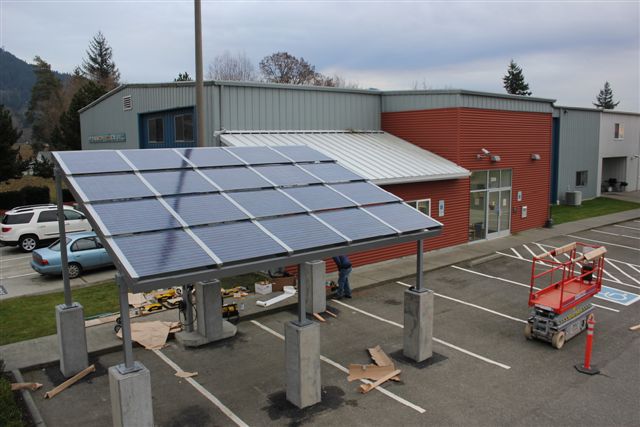 ---
Comments (0)
This post does not have any comments. Be the first to leave a comment below.
---
Post A Comment
You must be logged in before you can post a comment. Login now.
Featured Product
Joyce Solar Jacks are specifically designed for heavy-duty solar tracking applications. Available in machine screw and ball screw models, these cost effective and efficient jacks precisely position loads at speeds typical of solar tracking applications. Configurations are available to meet individual customer tracking and positioning requirements. These jacks are designed for outdoor applications and built to stand up to environmental challenges found at solar installations around the world. Specifications: * Ideal for larger loads, 2 tons to 30 tons * Available in acme screw or ball screw * Suitable for utility or commercial installations * Integral trunnion mount * Long life/low maintenance design * Built to ISO 9001:2008 Standards. Joyce delivers more than the finished product. Quality is built into the whole process from expert engineering support during design conception to top-notch customer support after shipment. Contact Joyce for the products and support you need.