We utilized a rural grant of 25% of the total cost and took advantage of TVA'S Generation Solar Partners Program.
Case Study - Dickson Medical Center
Jim Lindsey | Solar Plexus LLC
Project location: Dickson, Tn.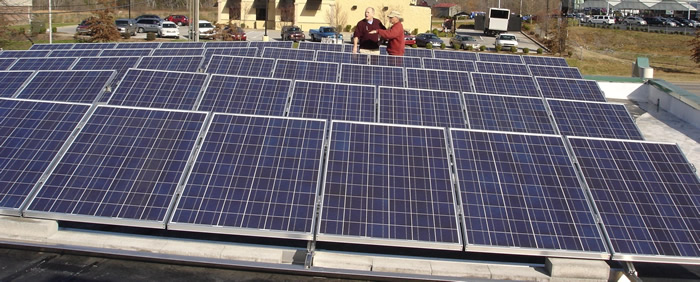 Project budget:
$ 80,640 Total Installed Price
List of Products used:
60 Sharp 235 watt panels, 10 Schletter Racks using Ballasted System with Solectria Inverter
Unusual situations or problems that you came across:
With Gary Wolf of Sundog Solar doing the installation any unusual problems were taken care of beautifully.
Summary:
Dickson, Tn. is about 30 miles from my home base of Brentwood (Nashville) Tn. This was the largest PV job installed for a profit company, Dickson Medical Center. We utilized a rural grant of 25% of the total cost and took advantage of TVA'S Generation Solar Partners Program. The 13.44 kW system is expected to produce slightly over 20,000 kilowatts per year.
Having been a solar pioneer by installing over 300 solar water heaters in the early eighties, this was my departure from thermal solar to the more popular solar electricity. Due to the expiration of the tax credit under The Carter Administration , our best month's sales of 85 systems soon dropped to zero and 36 dedicated employees became un-employed. Solar Plexus was born with such a name because solar has been close to my heart for over 30 years, as is my solar plexus.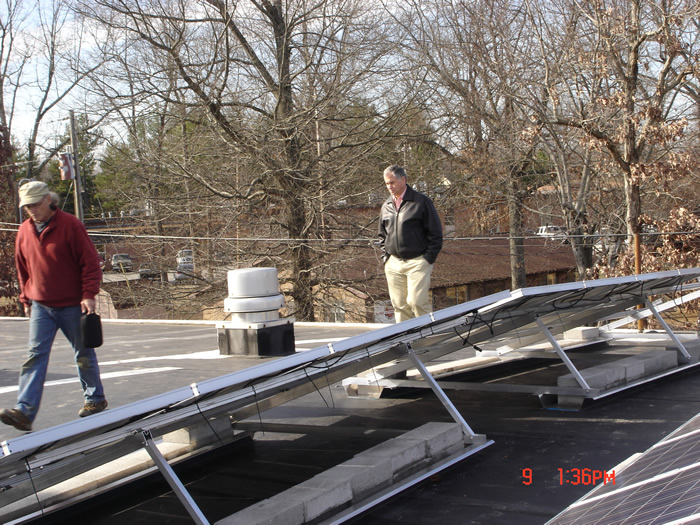 Concrete blocks holding the panel racks in place. Many folks do not know we can use this ballasted system and not penetrate the roof (which could void the roofing companies guarantee.)
---
Comments (0)
This post does not have any comments. Be the first to leave a comment below.
---
Post A Comment
You must be logged in before you can post a comment. Login now.
Featured Product
Please join Parker's Energy Platform Solutions team at the upcoming Solar Power International show, September 10-13 at Mandalay Bay Convention Center in Las Vegas, NV. Our offering features a compact outdoor Power Conversion/Energy Storage System, complemented by an outdoor central solar inverter, both employing two-phase evaporative liquid cooling technology and modular compact designs. We will also feature axis tracker solutions with our hybrid actuator system that uses an intelligent position feedback sensor, as well as our independent wireless condition monitoring sensors for hydraulic pressure. To learn more about what we will display and launch at SPI, please click on the product sections below.