The installation of 14 UGE-4K wind turbines at the Philadelphia Eagles' Lincoln Financial Field proves that distributed renewable energy is within closer reach for all than once thought.

Contributed by | Urban Green Energy
Completed - November 2012
Location: Philadelphia, Pennsylvania
Client: Philadelphia Eagles
Solution: Designed to drastically decrease the Lincoln Financial Field's reliance on traditional fuel sources, the renewable energy system is connected directly to the stadium's grid. 7 turbines are placed on each side of the field, behind their respective field goal.
Components: 14 UGE-4K wind turbines complement a solar array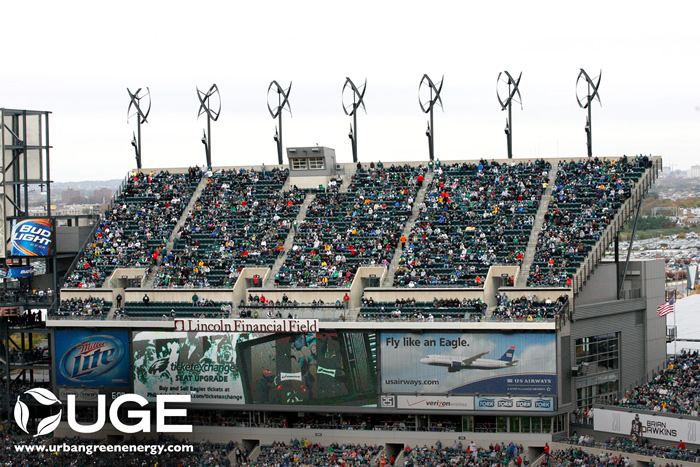 With the increasing popularity and public knowledge of alternative energy solutions, "Going Green" is becoming less unusual and more ubiquitous. This has become apparent by the increased visibility of clean energy systems in businesses that were previously dissuaded by transitional energy technology, as well as commercial enterprises pursuing solutions to reduce their reliance on traditional fuel sources.
Renewable energy solutions are becoming more visible thanks to companies like Urban Green Energy. Partnerships with the likes of BMW and GE certainly add to the luster of reducing your carbon footprint, but one of their latest projects - the installation of 14 UGE-4K wind turbines at the Philadelphia Eagles' Lincoln Financial Field - prove that distributed renewable energy is within closer reach for all than once thought.
The installation has been monumental in terms of visibility. The fourteen turbines complement a solar array aimed at reducing the Eagles' energy consumption, and will be seen adorning the top of the stadium every time the Eagles play at home. The entire renewable system will produce 6 times more power than the stadium uses during home games throughout the year.
Founded in 2008, UGE provides the only comprehensive distributed renewable energy solutions with the necessary versatility, durability and energy security to be implemented across the range of harsh environments their enterprise clients face. Solar and wind complement each other and together with storage technologies and remote monitoring systems address their needs at the nexus of energy cost, security and sustainability. They have designed and created the most durable and versatile wind turbine, and are leading the industry in remote monitoring and control and power electronics. In addition, UGE has developed its proprietary site assessment and planning platform, which has allowed it to deploy solutions in over 70 countries around the world from its headquarters in New York.
---
Comments (0)
This post does not have any comments. Be the first to leave a comment below.
---
Post A Comment
You must be logged in before you can post a comment. Login now.
Featured Product
Joyce/Dayton, North America's premier manufacturer of screw jacks and actuators has been in continuous operation for over 140 years. Joyce has become the trusted name in solar tracking with more than 2 gigawatts of power generation equipment in service world-wide. Consider the benefits: • Reliably position 50 tons (or more) • Long life/Low maintenance design • Motorized to meet customer specifications • Customer specified load/speed/fit • Built to ISO9001:2008 standards • Superior surface protection • Integral Trunnion mount • Easy to install. Joyce delivers more than the finished product. Quality is built into the whole process from expert engineering support during design conception to top-notch customer support after shipment. Contact Joyce for the products and support you need.