Solar PV has been one of the fastest growing energy sources in the US over the past six years, with a compound annual growth rate of over 50% since 2007.
US Reaches Milestone of 10 Gigawatt Solar Photovoltaic Capacity, According to NPD Solarbuzz
Contributed by | NPD SolarBuzz
Solar photovoltaic (PV) installations in the US have now broken through the 10 gigawatt (GW) barrier, following strong market deployment since the start of 2010. During the first half of 2013, more than 1.8 GW of new solar PV capacity was installed in the US, according to the NPD Solarbuzz North America PV Market Quarterly report.
"The US has now joined an elite group of maturing solar PV markets that have accumulated more than 10 GW of installed capacity," commented Christopher Sunsong, analyst at NPD Solarbuzz. "Only Germany, Italy, and China have more installed PV capacity than the US. The US is only the fourth country to reach the 10 GW milestone of installed PV capacity."
Solar PV has been one of the fastest growing energy sources in the US over the past six years, with a compound annual growth rate of over 50% since 2007. Cumulative solar PV installations are forecast to increase an additional 80% over the next 18 months, surpassing 17 GW by the end of 2014.
Figure 1: Regional Distribution of the First 10 GW of Solar PV in the US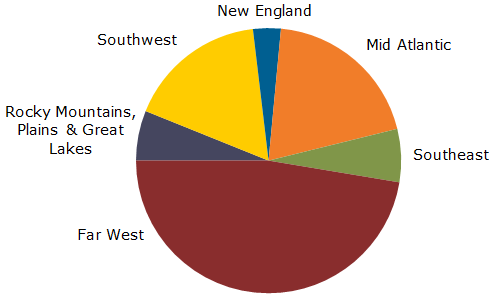 Source: NPD Solarbuzz North America PV Market Quarterly report
The rapid uptake of solar PV in the US is being driven by the dramatic solar system price declines observed since 2011. Average installed system prices in the US have declined from around $6/watt two years ago to approximately $4.25/watt for residential installations and $3/watt for large utility-scale PV projects today.
"US solar PV market growth has been stimulated by an increased range of solar incentive programs at the state level," added Sunsong. "While the Far West and Mid-Atlantic states dominate the 10 GW installed, the Southwest and Southeast regions have recently made strong contributions. Other regions however, such as the Great Plains and Great Lakes, remain largely undeveloped, creating further market upside going forward."
Solar PV installations in the US have seen significant growth since the start of 2010; 83% of the 10 GW were completed within the past 14 quarters. Almost 1,400 solar PV installations in excess of 500 kW in 39 different states are providing 5.4 GW of capacity, and nearly 40% of that capacity is within California.
For more information about the NPD Solarbuzz North America PV Market Quarterly report, contact us at one of our seven global locations, email us at contact@solarbuzz.com, or call Charles Camaroto at 1.516.625.2452 for more information. Further details on the breakdown of the 10 GW of US solar PV capacity will also be provided at the forthcoming NPD Solarbuzz North America PV Conference in San Jose on 7 August 2013.
About NPD Solarbuzz
NPD Solarbuzz, part of The NPD Group, offers the North America PV Market Quarterly, Marketbuzz, Solarbuzz Quarterly, and other upstream and downstream photovoltaic (PV) market quarterly reports, providing the solar energy and PV industries with global historical and forecast data for the PV supply chain. For more information, visit www.solarbuzz.com or follow us on Twitter at @Solarbuzz.
About The NPD Group, Inc.
The NPD Group provides global information and advisory services to drive better business decisions. By combining unique data assets with unmatched industry expertise, we help our clients track their markets, understand consumers, and drive profitable growth. Sectors covered include automotive, beauty, consumer electronics, entertainment, fashion, food/foodservice, home, luxury, mobile, office supplies, sports, technology, toys, and video games. For more information, visit www.npd.com and npdgroupblog.com. Follow us on Twitter: @npdtech and @npdgroup.
---
Comments (0)
This post does not have any comments. Be the first to leave a comment below.
---
Post A Comment
You must be logged in before you can post a comment. Login now.
Featured Product
Solar FlexRack TDP™ Turnkey Trackers are the next generation, single-axis solar tracker solution, complete with comprehensive services and support. What sets this tracking solution apart is its updated tracking technology bundled with a full suite of best-in-class project services and support for commercial and utility-scale solar customers. The TDP Turnkey Tracker offers the lowest total cost solution by providing the only tracker in the industry that includes full design, installation, commissioning, and support services bundled in one contract. Solar FlexRack's TDP Solar Tracker solution is supported by an in-house team of experts that includes mechanical, structural, civil, electrical and geotechnical engineers and geologists. To learn more about Solar FlexRack's TDP Turnkey Tracker, one of the most cost-effective and comprehensive tracker solutions available, please visit: http://solarflexrack.com/products/tracker.