Adopting a building-integrated solar air heating system for a multi-residential, high rise exterior retrofit of the Lyndon B. Johnson public housing complex in Cambridge, Massachusetts.

Contributed by | Matrix Energy Inc.
The installation of a 2250 ft2 unglazed, transpired solar air heating system was part of the Lyndon B. Johnson (LBJ) Apartments, a 180-unit senior housing development in Cambridge, MA owned by the Cambridge Housing Authority (CHA) retrofit project.
The HVAC systems in commercial buildings account for 32% of the total energy consumption in the United States according to the Centre for Climate and Energy Solutions. Upwards of eighty- five percent of this energy comes from non-renewable, fossil fuels. There are several ways to use energy more efficiently, and produce energy using renewable sources with products that integrate aesthetically, seamlessly and cost effectively within a buildings' architecture.
Unglazed, transpired solar air heating systems have high operating efficiencies (70% to 89%), and utilize existing building mechanical systems in high rise applications in order to function. Such systems are designed for cold climates, demonstrating an incremental payback history of between two and eight years with best installations located in areas with cool weather but significant sunshine. Given their relatively quick payback, ease of integration on new or retrofit applications and the aesthetically pleasing designs, building owners planning façade renovations should evaluate whether a transpired solar air heating systems is a viable option.
In the northern latitudes a dark, perforated, metal cladding (absorber) is installed on a south- facing wall over the building's ventilation intake system. Both diffuse and direct solar radiation strike the absorber and as the air passes through the perforations the sunlight is converted into heat.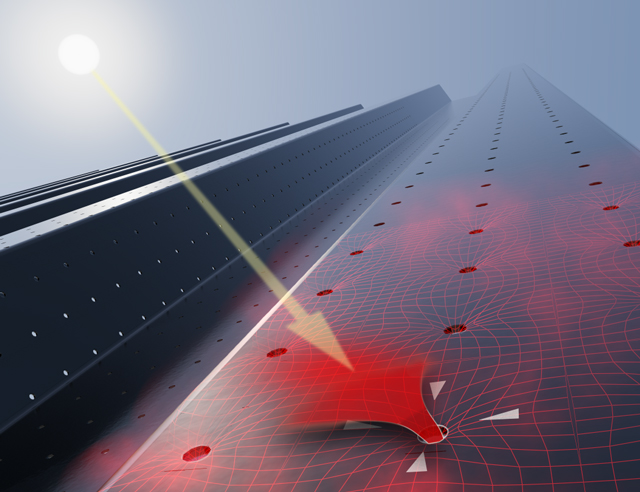 Outdoor air is drawn through the perforated exterior cladding at flow rates of 4 – 7 CFM/ft 2 of collector area and into the void cavity between the cladding and the building's exterior structural wall. Higher air flow rates are suggested for high-rise applications to mitigate the impact of heat loss due to ambient wind on the absorber. As the air travels through the plenum, it is heated up to 250 C over ambient temperatures and the warmed air is then drawn into the building as fresh ventilation air. According to ASHRAE Standard 55, the temperature of the air in a building should range from 20 to 240 C during the winter and transpired solar air collectors serve to pre- heat ventilation air by up to 230 C without using other fuels thereby reducing energy demand.
The 2,250 square-foot black wall-mounted transpired solar air heating collector rose twelve stories covering the south-facing wall of LBJ Apartments, harnessing solar radiation to cost-effectively pre-heat 10,000 CFM of fresh air as it is drawn into the building's ventilation system, providing substantial energy savings during the heating season.
"The energy retrofit at LBJ Apartments is a showcase for clean, renewable technologies." said Greg Russ, CHA's Executive Director. "Matrix Energy's solar heating system is part of the technology package that will contribute to our effort to reduce our environmental footprint, by adding renewable energy technology that pays for itself, improves the performance of the building and introduces new energy conservation techniques to the region."
The $23 million CHA project was financed through a $10 million grant under the American Recovery and Reinvestment Act (ARRA) implemented by the U.S. Department of Housing and Urban Development (HUD), and is designed to meet the standards of HUD's Green Communities Program for Substantial Renovations. It is one of only thirty six projects in the nation funded under the grant program, requiring commitment to a "transformative change" in the approach to energy use.
"Matrix Energy's SRCC certified, solar air heating system is a key element in achieving the energy performance objectives for this retrofit," said Paul Hewins Executive Vice President and General Manager of Skanska USA's New England Operations.
The project is on track for a 50% reduction in energy use at the property, as well on-site renewable energy generation exceeding 10% of the projected post retrofit energy needs. The solar air heating system custom-designed for LBJ Apartments by Matrix Energy will produce approximately 300 million BTUs of solar heating during each heating season, cutting annual natural gas consumption by more than 100,000 kWh – more than $5,000 in savings - while providing an annual 18 tonne reduction in CO2 emissions. In addition to being entirely maintenance free, unglazed transpired solar air collectors are recognized for their air filtration ability with studies (Enermodal, February 2000) showing a 50% reduction in particulate matter entering the HVAC system resulting from the static build-up of dirt particles around the perforations that are cleaned naturally by rainfall.
About Matrix Energy Inc.
Matrix Energy is the premier manufacturer of patented and patent pending wall and roof- mounted solar air heating systems in North America. The Company applies state-of-the-art design and manufacturing technology to produce energy efficient, LEED® compliant and ready- to-install solar air heating systems for new and retrofit construction projects in commercial, institutional, industrial and agricultural facilities.
Since 1990 Matrix Energy has supplied nearly 500,000 ft2 of solar air heating collector area spanning hundreds of projects within the commercial, industrial, institutional and agricultural markets in North America and the EU totaling over 2,800,000 CFM of fresh air and nearly 8,000 tonnes of avoided CO2 emissions each year.
About Skanska Inc.
Skanska USA Building is a leading provider of world-class construction services within the building construction sector in the United States. Skanska USA Building is based in New Jersey, with an extensive network of local offices enables a broad geographic reach.
About Cambridge Housing Authority
Cambridge Housing Authority (CHA) is a national leader in the development, management, and administration of subsidized affordable housing for low-income elderly, family, and disabled households. Their mission is to develop and manage safe, good quality, affordable housing for low-income individuals and families in a manner that promotes citizenship, community and self- reliance.
In addition to owning and managing over 2,600 units of state and federally subsidized low- income housing, CHA operates a "Local Leased Housing Program" consisting of more than 2,800 state and federally subsidized mobile and project based housing vouchers used to rent private units in the Greater Boston Metro Area.
CHA participates in the U.S. Department of Housing and Urban Development's groundbreaking Moving to Work Deregulation Demonstration (MTW). MTW provides CHA with regulatory flexibility that is generally not available to Public Housing Authorities. CHA uses this flexibility to explore new ways to provide affordable housing, education and paths to economic independence to the City's low-income families, elders and individuals with disabilities.
---
Comments (0)
This post does not have any comments. Be the first to leave a comment below.
---
Post A Comment
You must be logged in before you can post a comment. Login now.
Featured Product
You haven't installed a tile mount that is easier to install than the Solar Tile Mount manufactured by TRA Snow and Sun. Solar Tile Mount is used on all tile roof profiles: flat, mid, and high. It is made in the USA of aluminum alloy for strength and excellent corrosion resistance. Solar Tile Mount is built to allow more ease in installation with more rise from the tile surface to the rail for better air flow below panels. The adjustable base is longer than most allowing attachment 6" to the left or right to have the bracket in the base of the pan of the tile and still fasten to the rafter. Solar Tile Mount is adjustable for counter batten systems from ¾" to 3". The horizontal rail is directly above base fasteners giving greater uplift resistance than any other system. For superior waterproofing apply TRA Snow and Sun's butyl backed VersaFlash aluminum flashing. No tile flashing is needed on top of the tile for greater labor and material cost savings.