Two states recently passed legislation that would require significant increases in renewable electricity generation.
Hawaii and Vermont set high renewable portfolio standard targets
Reprinted with permission from | Today in Energy
Two states recently passed legislation that would require significant increases in renewable electricity generation. On June 8, Hawaii updated legislation setting a 100% renewable portfolio standard (RPS) by 2045. On June 11, Vermont passed a bill creating a 75% RPS by 2032. Both of these RPS target percentages are higher than any other RPS target in the United States.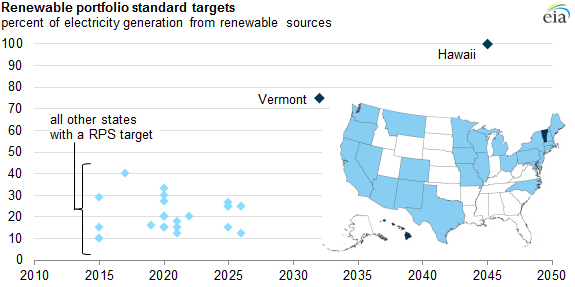 Source: U.S. Energy Information Administration
Note: The figure includes primary renewable targets and does not adjust for additional sub-targets.
Renewable portfolio standards are state- or local-level policies that mandate all or certain types of electricity producers to supply a minimum share of their electricity from designated renewable resources. Twenty-nine states and the District of Columbia have RPS policies, and an additional eight states have nonbinding renewable portfolio goals.
Hawaii's previous RPS required 40% renewable energy by the end of 2030. The new policy, H.B. 623, includes interim requirements of 30% by the end of 2020, 40% by 2030, and 70% by 2040, ultimately reaching 100% renewable electricity by 2045. The state has met its annual RPS obligations to date, which for 2014 was 10% renewable energy. Largely because of its isolation, the bulk of Hawaii's electricity generation continues to be from petroleum.
Before passing its RPS, Vermont ran a renewable goal program known as Sustainably Priced Energy Enterprise Development (SPEED). The SPEED goal, enacted in 2005, set a nonbinding target of 20% renewables by 2017. Vermont's new RPS, H.40, also known as Renewable Energy Standard and Energy Transformation (RESET), has an interim goal of 55% by 2017 and also includes provisions for cutting emissions in the residential and transportation sectors. In December 2014, the 604 megawatt Vermont Yankee nuclear plant was retired. Because this plant supplied more than 70% of Vermont's electricity generation in 2014, its retirement significantly changes the generation profile of the state.
The majority of state RPS policies were enacted in the late 1990s and early 2000s. Before Vermont's RPS, the most recent RPS enacted was in 2009 when Kansas passed a renewable energy standard requiring 20% of the utilites' peak demand to be met with renewable resources by 2020.
More recently, most of the states with existing RPS policies, such as Hawaii, have made major revisions to their original legislation. In some states, these changes have loosened or eliminated, rather than tightened, renewable standards. Last year Ohio froze its RPS of 12.5% by 2024 for a two-year period. In January, West Virginiabecame the first state to repeal its alternative energy standard. And in May, Kansas voted to change the RPS that it created in 2009 to a nonbinding goal. A number of additional states currently have RPS legislation under review.
Principal contributor: Cara Marcy
---
Comments (0)
This post does not have any comments. Be the first to leave a comment below.
---
Post A Comment
You must be logged in before you can post a comment. Login now.
Featured Product
The Seaward Solar PV210 PV installation tester provides a highly efficient and effective test and diagnostic solution for PV systems, carrying out all commissioning tests required by IEC 62446 and performing fast and accurate measurement of I-V curves in accordance with IEC 61829. With direct connection to individual PV modules or strings using the supplied lead sets, tests can be conducted easily and within a matter of seconds at the press of a single button.