In 2015, the ethanol share of gasoline was 9.9%, and the biodiesel share of distillate was 2.4%.
EIA tracks monthly ethanol and biodiesel rail movements
Reprinted from | Today In Energy
EIA recently released new information on ethanol and biodiesel movements by rail. The new monthly estimates are integrated with EIA's existing Petroleum Supply Monthly and include movements beginning in January 2014. Unlike other liquid fuels that are most commonly transported by pipeline, ethanol and biodiesel are more often transported by rail because both fuels attract water and other impurities in pipelines.
The estimates cover rail movements of ethanol and biodiesel within each Petroleum Administration for Defense District (intra-PADD) and between different PADDs (inter-PADD), as well as rail movements to and from Canada. The estimates improve EIA's regional supply and disposition balances by providing information about both the shipments and receipts of ethanol and biodiesel by rail. Previously, only information on imputed net receipts was available.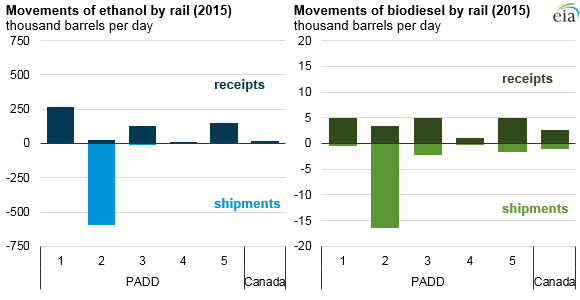 Source: U.S. Energy Information Administration, Petroleum Supply Monthly
Note: Shipments and receipts include intra-PADD movements.
Origins, destinations, and volumes of ethanol and biodiesel shipped by rail have not experienced much change over the past two years. Almost all ethanol and biodiesel end up in the motor gasoline or diesel pool, respectively. The only other outlet for fuel ethanol or biodiesel is exports, which are small compared with domestic consumption.
In 2015, the ethanol share of gasoline was 9.9%, and the biodiesel share of distillate was 2.4%. Most ethanol and biodiesel is produced in the Midwest (PADD 2), where it is then shipped to other regions. In 2015, the Midwest shipped 593,000 barrels per day (b/d) of ethanol by rail and 16,000 b/d of biodiesel by rail. The East Coast (PADD 1) receives almost half of the ethanol moved by rail. Biodiesel by rail receipts are about the same in all regions except the Mountain region (PADD 4).
Principal contributor: Arup Mallik
---
Comments (0)
This post does not have any comments. Be the first to leave a comment below.
---
Post A Comment
You must be logged in before you can post a comment. Login now.
Featured Product
Visit Booth #2886 at AWEA Windpower, May 22-25 in Anaheim, CA to see how Parker products, systems and services help you raise performance while reducing risk in wind energy environments. Parker has been on the forefront of windpower for over two decades, with solutions that touch virtually every critical function in the turbine. From integrated lube oil filtration systems and sealing technologies that make drive trains more reliable and bearings operate like new to compact blade pitch actuation systems that maximize rotor efficiency and minimize vibrations in the turbine. Parker has the solutions that make today's advanced and sophisticated wind power plants better and smarter. Case in point? Our high efficiency power conversion systems that deliver optimum power to the grid. While our scalable evaporative cooling system lowers overall system cost with up to 40% higher power throughput.