Solar Energy Index Underperforms S&P in Q1 2016
Stock Index - Solar Energy
Contributed by | Lincoln International
About the Solar Energy Stock Index
Similar to the S&P 500 Index, the Solar Stock Index is a market cap weighted composite index. The index is prepared by first selecting a base period, in this case, Q1 2009, and totaling the market caps of the companies in each sector in this period. This period and total market cap is set to a base index, in this case, 1000. Next, for each sector, the current period's total market cap is calculated, divided by the base period's total market cap and then multiplied by the base index (1000). The result is the index value used for plotting in the graph.
Solar Energy Index Underperforms S&P in Q1 2016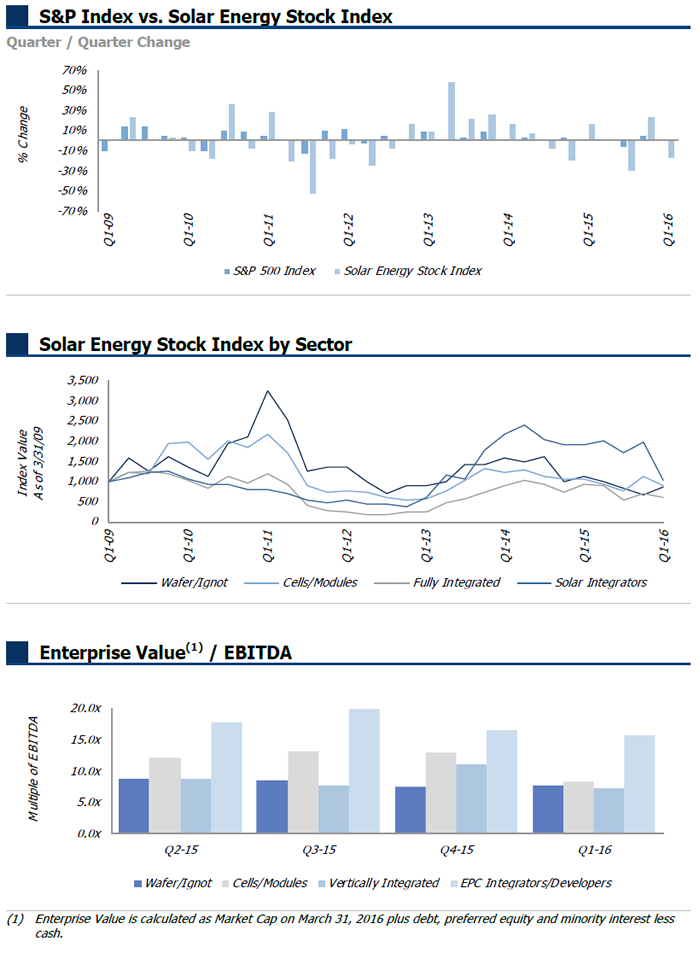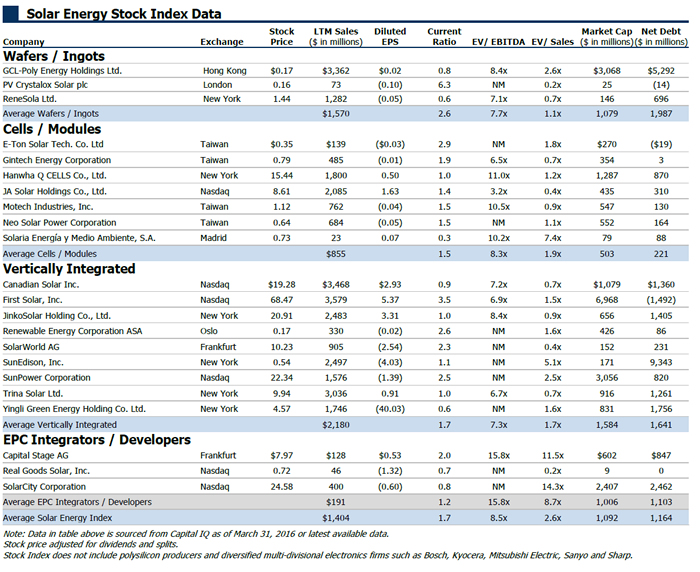 Solar Energy Highlights
Overall Solar Index decreased 18.1% from last quarter
Wafers / Ingots Index increased 29.0% from last quarter
Cells / Modules Index decreased 21.0% from last quarter
Vertically Integrated Index decreased 14.4% from last quarter
EPC Integrators / Developers Index decreased 46.7% from last quarter
About Lincoln International
Lincoln International specializes in merger and acquisition advisory services, debt advisory services, private capital raising and restructuring advice on mid-market transactions. Lincoln International also provides fairness opinions, valuations and pension advisory services on a wide range of transaction sizes. With sixteen offices in the Americas, Asia and Europe, Lincoln International has strong local knowledge and contacts in key global economies. The firm provides clients with senior-level attention, in-depth industry expertise and integrated resources. By being focused and independent, Lincoln International serves its clients without conflicts of interest. More information about Lincoln International can be obtained at www.lincolninternational.com.
Lincoln's Renewable Energy Group
Lincoln International's Renewable Energy Group is led by a former CEO of a public company. The firm's Renewable Energy team provides transactional, financial and strategic advisory services to renewable energy companies and private equity groups.
---
Comments (0)
This post does not have any comments. Be the first to leave a comment below.
---
Post A Comment
You must be logged in before you can post a comment. Login now.
Featured Product
The Sunny Boy 5.0-US / 6.0-US features a wealth of improvements and joins SMA's lineup of field-proven solar technology backed by the world's #1 service team. The world's first Secure Power Supply now delivers up to 2,000 W of opportunity power when the grid goes down and the sun is shining. Installation has never been easier thanks to SMA's Installation Assistant, direct access via smartphone, and integrated DC disconnect. The Sunny Boy's multiple independent input channels, each with SMA's OptiTrac™ Global Peak, mean hundreds of stringing configurations for flexible system design while solving the challenges of complex roofs and shading. The residential PV market is changing rapidly, and we understand that your bottom line matters more than ever. That's why we've designed a superior residential solution that will help you decrease costs throughout all stages of your business model. The Sunny Boy 5.0-US and 6.0-US are once again raising the bar by offering improved performance, enhanced features, and most importantly, cost savings across the entire spectrum of residential installation processes.