Alternative Energy Company Directory
Manufacturing -

Marketing Partner

LG Solar
The history of LG's solar business can be traced back to the mid-1980's, when the LG central research lab started R&D on solar technologies. In 2004, the LG business group created synergy and prepared for mass production by consolidating several solar research laboratories under the LG Electronics umbrella. Using decades of R&D experiences, LG Electronics broke ground on its first solar cell and module factory.
Mailing Address:
1000 Sylvan Ave.
Englewood Cliffs, NJ 07632
United States of America
Tel: 8000000000
Fax:
Email: lg.solar@lge.com
Website: http://www.lg-solar.com/en/main.php
Geographic Region: USA - North East
Company Sector: Manufacturing
Link Library Category: manufacturers - solar energy equipment
Keywords: solar, panels, photovoltaics
Partner Status: Marketing Partner
Hot Products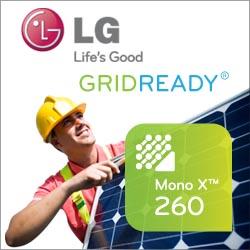 The MonoX, LG's most technologically advanced module, can produce up to 260 Watts of pure sun power. The MonoX delivers maximum efficiency while offering superior durability backed by 25 years of intense research and development far surpassing industry standards. The MonoX and all of LG Solar's photovoltaic modules are uniquely designed to offer the superior quality, field tested performance, durability and reliability customers the world over have come to expect. Our diverse product range consists of residential, commercial and utility-grade modules that come ready to perform.
(Category: Solar Energy)
Press Releases
This Company does not currently have any Press Releases