Manufacturing

Marketing Partner
---
SolarRoofHook
Today, SolarRoofHook has a wide range of innovative products for mounting solar panels onto residential roofs. SolarRoofHook can produce custom products from start to finish in 60 days and are continually working with installers to deliver the exact products needed for any type of roof.
---
Mailing Address:
5830 Las Positas Road
Livermore, CA 94551
United States of America
Tel: 925-371-8215
Fax:
Email: jwiener@quickscrews.com
Website: https://www.SolarRoofHook.com/
Company Category: Solar & Wind
Geographic Region: USA - South West
Company Sector: Manufacturing
Keywords: solar mounts, screws, fasteners
Partner Status: Marketing Partner
---
Products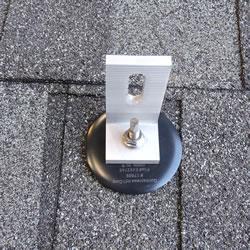 The QuickBOLT is THE affordable mounting solution for Asphalt Shingle Roofs. Not only is it the lowest cost system in the industry, it also maintains the fastest install time of any mounting system available. Unlike other Asphalt Mounting systems that require bulky flashing, the QuickBOLT uses a small EPDM washer and is 100% waterproof! Part # 17672
---
Articles
This year we will be demonstrating how our products work by attaching them to mock roofs. Installers will also be able to speak directly with our Sales team to learn more about new products.
We are introducing a few new products this year. For Asphalt Shingle Roofs, we have a new Low Profile QuickBOLT that simplifies the installation process by removing the height adjustable nature of the original QuickBOLT. We have a new hook for Stone Coated Steel Roofs, as more installers have found customer opportunities with this type of roof. Visit us at Intersolar Booth #9645
We have our QuickBOLT in an aquarium demonstrating its leak-proof abilities, we have our color-coded system boasting all of the roofing styles we supply mounting hardware for, and we have our full line of roof mounts out on rotating displays.
In general, the installer just removes the roof piece, locates the rafters, drills pilot holes, fastens the product to the rafter, properly seals the penetration, and grinds the tile where the mount is located before placing the roof piece back over or around the mount.
---
Press Releases
See Our Residential Solar Mounts in Action at Intersolar Booth #9645
Patented QuickBolt Contributes to Continuing Growth in Residential Solar Installations
Quickscrews International now has five different hooks developed for the Stone Coat Steel style of metal roofs. These products have become the #1 style for mounting on the metal roofs that have the appearance of tile.
---