Solar Roadways Could Do It All!
The Solar Roadway™ is a series of interconnected Solar Road Panels™ that you actually drive on. The idea is to replace all current asphalt roads, parking lots, and driveways with Solar Road Panels™ that collect and store solar energy to be used by our homes and businesses. When multiple Solar Road Panels™ are interconnected, the Solar Roadway™ is formed. These panels replace current driveways, parking lots, and all road systems, be they interstate highways, state routes, downtown streets, residential streets, or even plain dirt or gravel country roads. Panels can also be used in amusement parks, raceways, bike paths, parking garage rooftops, remote military locations, etc. Any home or business connected to the Solar Roadway™ (via a Solar Road Panel™ driveway or parking lot) receives the power and data signals that the Solar Roadway™ provides. Here is a youtube presentation and there is lots more info on the SolarRoadway website.
Comments (0)
This post does not have any comments. Be the first to leave a comment below.
---
Post A Comment
You must be logged in before you can post a comment. Login now.
Featured Product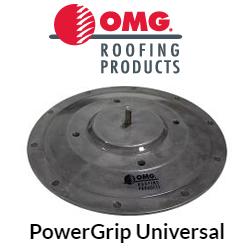 PowerGrip Plus Roof Mount System, a watertight structural attachment system used to secure ballasted solar racks and other equipment to roofs covered with thermoplastic (TPO and PVC) membranes. PowerGrip Plus is designed with wind performance in mind and offers ultimate tensile strength of 2,000 lbf. and ultimate shear strength of 1,075 lbf. Properly installed PowerGrip Plus units reduce rack movement and remaining watertight. PowerGrip Plus units are easy to install, saving both time and labor when compared to alternative options. A wide membrane skirt promotes easy welding in place, and the 15/8 diameter and 1/2 inch tall mount provides an optimal perch for securing brackets or struts. The exposed 1 inch tall and 3/8 inch diameter bolt and mounting stand are made from corrosion-resistant stainless steel and aluminum alloy for superior long-term performance.