How About Some Optimism For a Change?
Here is what the future may hold if roadmaps, predictions and policy targets all come true.
2010: 5.2 percent reduction in greenhouse gas emissions emissions from 1990 levels is achieved by those countries that signed the Kyoto Protocol. 20 percent of California's electricity comes from renewables. Toyota releases a plug-in hybrid electric vehicle.
2018: 100 percent of U.S. electricity comes from solar, wind and other renewables (Gore's prediction). $255 billion spent per year (more than four times what is currently spent) on biofuels, wind power, solar photovoltaics, and hydrogen fuel cells. $150 billion invested by this date by the U.S. government on climate-friendly energy development (Obama's plan).
Read More.
Comments (0)
This post does not have any comments. Be the first to leave a comment below.
---
Post A Comment
You must be logged in before you can post a comment. Login now.
Featured Product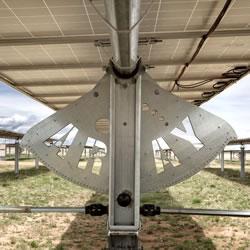 With more than 2 gigawatts shipped around the world and 25 years of experience, Array Technologies, Inc. (ATI) ensures value, reliability, and bankability for your solar project through its proven ground mount tracking and racking solutions. ATI's leading products, DuraTrack HZ single-axis horizontal solar tracker and DuraRack fixed-tilt rack, combine a minimization of materials with rugged reliability to promote rapid installation times and project longevity. From the frozen tundra of Alaska to the deserts of Chile, ATI provides high quality solar tracking and racking solutions for every location and environment. ATI's industry-leading engineering and project management is included with each utility-scale and commercial project to provide a fully-supported and customized solution for your project. For more information on our products and services, please stop by Intersolar North America booth 9725.