Energy from Salt!
Instead of fossil fuels going in your gas tank, how about adding a pinch of salt? That may be the case in the future as a new process is under development to convert a type of salt into a biofuel. New properties of imidazolium salts (IMSs) could convert carbohydrates into versatile chemical compounds for biofuel production, according to a study by researchers at Singapore's Institute of Bioengineering and Nanotechnology (IBN). Biofuels are currently the only sustainable source of liquid fuels available, but the lack of highly efficient methods to convert carbohydrates into chemical compounds for biofuel production is one reason for the slow down in any replacement of petroleum feedstock by biomass. [read more]
Comments (0)
This post does not have any comments. Be the first to leave a comment below.
---
Post A Comment
You must be logged in before you can post a comment. Login now.
Featured Product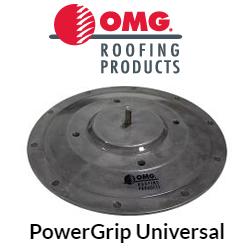 PowerGrip Plus Roof Mount System, a watertight structural attachment system used to secure ballasted solar racks and other equipment to roofs covered with thermoplastic (TPO and PVC) membranes. PowerGrip Plus is designed with wind performance in mind and offers ultimate tensile strength of 2,000 lbf. and ultimate shear strength of 1,075 lbf. Properly installed PowerGrip Plus units reduce rack movement and remaining watertight. PowerGrip Plus units are easy to install, saving both time and labor when compared to alternative options. A wide membrane skirt promotes easy welding in place, and the 15/8 diameter and 1/2 inch tall mount provides an optimal perch for securing brackets or struts. The exposed 1 inch tall and 3/8 inch diameter bolt and mounting stand are made from corrosion-resistant stainless steel and aluminum alloy for superior long-term performance.