Solar Power for 7.5 cents a kilowatt-hour!
Sempra Generation, a subsidiary of Sempra Energy in San Diego, just took the wraps off a 10-megawatt solar farm in Nevada. That's small by industry standards, enough to light just 6,400 homes. But the ramifications are potentially huge. A veteran analyst has calculated that the facility can produce power at a cost of 7.5 cents a kilowatt-hour, less than the 9-cent benchmark for conventional electricity. If that's so, it marks a milestone that renewable fans have longed for: "grid parity," in which electricity from the sun, wind or other green sources can meet or beat the price performance of such carbon-based fuels as coal and natural gas. Original LA Times story.
Comments (0)
This post does not have any comments. Be the first to leave a comment below.
---
Post A Comment
You must be logged in before you can post a comment. Login now.
Featured Product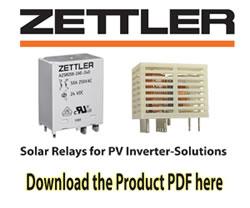 As solar and other alternative energy technologies continue to grow globally, ZETTLERs NEW ENERGY SOLUTIONS division is committed to supporting customers in renewable energy industries around the world, with first-class engineering and new product design, and by leveraging ZETTLER Groups worldwide production and distribution resources. ZETTLERs industry-leading electromechanical 'new energy' components are designed for use in solar inverters, electric vehicle charging devices, or any similar applications requiring high loads to be switched and carried.