Market Acceptance of LCPV and HCPV
Concentrator cells have been reaching increasingly impressive efficiencies, inspiring new interest in the high-efficiency, high-concentration approach. Currently, the record efficiency is 40.7 percent for a three-junction GaInP / GaInAs / Ge cell. From JX Crystals' perspective, its president Dr. Lewis M. Fraas sees the LCPV approach as fast to market with minimal risk. 'It is a simpler approach to understnd in terms of reliability and O&M because it is evolutionary from the traditional planar silicon module. Because of its simplicity, LCPV may be more suited to commercial building flat rooftops,' he recently told CPVToday.com in an interview.
Comments (1)
How much money do you save a month (or year) with your zero energy home? What are you sacrificing to achieve this? http://store.thesolarbiz.com/online/Items.aspx?code=OutBack&key=mr
Post A Comment
You must be logged in before you can post a comment. Login now.
Featured Product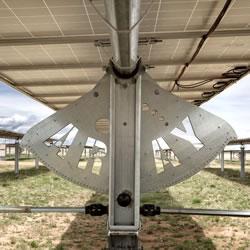 Array Technologies, Inc. (ATI) is proud to unveil the next evolution of its industry-leading DuraTrack HZ solar tracking system for utility-scale power plants. DuraTrack HZ v3 offers revolutionary features found nowhere else in the solar industry, including a single-bolt per module clamp and zero scheduled maintenance. This new version product delivers a variety of efficiencies allowing our customers to speed-up installation time, eliminate maintenance costs and maximize power plant uptime to deliver the best levelized cost of electricity.