Market Acceptance of LCPV and HCPV
Concentrator cells have been reaching increasingly impressive efficiencies, inspiring new interest in the high-efficiency, high-concentration approach. Currently, the record efficiency is 40.7 percent for a three-junction GaInP / GaInAs / Ge cell. From JX Crystals' perspective, its president Dr. Lewis M. Fraas sees the LCPV approach as fast to market with minimal risk. 'It is a simpler approach to understnd in terms of reliability and O&M because it is evolutionary from the traditional planar silicon module. Because of its simplicity, LCPV may be more suited to commercial building flat rooftops,' he recently told CPVToday.com in an interview.
Comments (1)
How much money do you save a month (or year) with your zero energy home? What are you sacrificing to achieve this? http://store.thesolarbiz.com/online/Items.aspx?code=OutBack&key=mr
Post A Comment
You must be logged in before you can post a comment. Login now.
Featured Product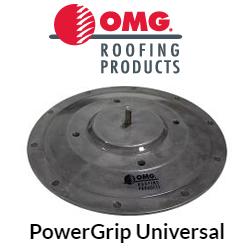 PowerGrip Plus Roof Mount System, a watertight structural attachment system used to secure ballasted solar racks and other equipment to roofs covered with thermoplastic (TPO and PVC) membranes. PowerGrip Plus is designed with wind performance in mind and offers ultimate tensile strength of 2,000 lbf. and ultimate shear strength of 1,075 lbf. Properly installed PowerGrip Plus units reduce rack movement and remaining watertight. PowerGrip Plus units are easy to install, saving both time and labor when compared to alternative options. A wide membrane skirt promotes easy welding in place, and the 15/8 diameter and 1/2 inch tall mount provides an optimal perch for securing brackets or struts. The exposed 1 inch tall and 3/8 inch diameter bolt and mounting stand are made from corrosion-resistant stainless steel and aluminum alloy for superior long-term performance.