Under the agreement, Intermatic has agreed to distribution rights from Solar Night Industries to market Solar Optic Flowers under the Malibu brand.
Saint Louis, MO (Solar Night Industries) May 3, 2006 - Solar Night Industries, Inc., (OTC Pink Sheets: SLND.PK), www.SolarNightIndustries.com a solar solutions company whose mission is to acquire, develop, and distribute solar products for the consumer, commercial, and governmental markets announced today that Intermatic, Inc. manufacturer of Malibu® Solar Lighting, has exclusive distribution rights for the Solar Night Flower line of products.

Under the agreement, Intermatic has agreed to distribution rights from Solar Night Industries to market Solar Optic Flowers under the Malibu brand.
"We are especially pleased that such an important company as Intermatic has recognized the innovation in our solar products", stated Jason Loyet, President and CEO of Solar Night Industries. "Our agreement with Intermatic will facilitate Solar Night Industries' ability to continue innovating and manufacturing important solar products."
Intermatic will unveil the Malibu Solar Optic Flower line of products at the 2006 Hardware Show on May 9-11, at the Las Vegas Convention Center, in booth 21801. Intermatic plans to market the solar flowers to retailers worldwide.
About Intermatic
Intermatic, Inc. is a manufacturer of consumer and industrial energy control products including Malibu® Outdoor Living Products, consumer and industrial timers, photo controls and home automation products. With headquarters in Spring Grove Illinois, Intermatic is a 114 year old, family-owned business with international operations. Last year, it sold products to nearly 100 countries around the world.
About Solar Night Industries, Inc.
Solar Night Industries, Inc., based in St. Louis, Missouri (USA), is a global manufacturer and distributor of innovative solar products. The company was founded by technology, manufacturing and sales executives with extensive industry experience and proven track records of success. The company has operations in St. Louis, Missouri and Sarasota, Florida, with affiliate offices in Mainland China. The company is developing products for consumer, business, and government markets. For more information, please visit www.SolarNightIndustries.com.
Safe Harbor Statement
This press release contains forward-looking statements which are made in reliance upon the "Safe Harbor" provisions of the Private Securities Litigation reform Act of 1995. Actual results could differ materially from the statements expressed or implied herein due to a variety of factors including, but not limited to: the development of Solar Night Industries' solar cell technology and solar solutions, ability to secure additional financing, the successful marketing and distribution of Solar Night Industries' products, market acceptance of Solar Night Industries' products and technology, competition and timing of projects and trends in the solar industry, as well as other factors. The forward looking statements contained herein are made only as of the date of this press release, and Solar Night Industries undertakes no obligation to publicly update such forward looking statements to reflect subsequent events or circumstances.
CONTACT:
Solar Night Industries, Inc.
Jason Loyet, President
ceo@solarnightindustries.com
314.922.0154
Featured Product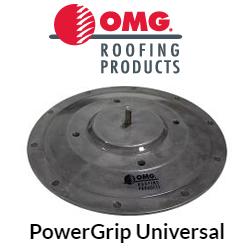 PowerGrip Plus Roof Mount System, a watertight structural attachment system used to secure ballasted solar racks and other equipment to roofs covered with thermoplastic (TPO and PVC) membranes. PowerGrip Plus is designed with wind performance in mind and offers ultimate tensile strength of 2,000 lbf. and ultimate shear strength of 1,075 lbf. Properly installed PowerGrip Plus units reduce rack movement and remaining watertight. PowerGrip Plus units are easy to install, saving both time and labor when compared to alternative options. A wide membrane skirt promotes easy welding in place, and the 15/8 diameter and 1/2 inch tall mount provides an optimal perch for securing brackets or struts. The exposed 1 inch tall and 3/8 inch diameter bolt and mounting stand are made from corrosion-resistant stainless steel and aluminum alloy for superior long-term performance.