The high AC and DC voltages have the advantage that line losses can be reduced almost everywhere in the system. Firstly, in the inverter, which forms the part of efficiency gain, and secondly the cable losses in the PV installation, which will be significantly lowered. In addition, the installation costs for cabling and the associated costs are reduced.

Contributed by | REFUsol GmbH
REFUsol 333K – A New Generation Grid-Inverter
Inverters are a key element for energy conversion of the viability of photovoltaic systems. Innovative concepts and developments are necessary to increase the efficiency of PV systems and to keep associated costs to a minimum. The new REFUsol 333K central inverter reduces overall system costs due to its higher input and output voltages. The article discusses the state-of-the-art technology and innovative features of the REFUsol 333K, which are responsible for creating a next-generation grid inverter.
Need for innovation
Central inverters are currently used in more conventional way, especially in larger PV systems. These are usually designed for line-side output voltage of 315 volts and input voltages up to 1000 volts to the DC generator side. This means each device has its own transformer secondary winding. This results in longer manufacturing and delivery time and also in higher equipment costs. In addition, these conventional inverters are heavy, and complex to handle and install. A sophisticated logistics concept has to be provided for effective transportation handling and installation of the devices.
In order to facilitate the most profitable and cost-efficient design of solar systems (both ground mounted and industrial roof PV installations), the REFUsol 333K is developed in a completely new way. The innovative inverter offers numerous advantages at the system level. It facilitates easier installation process and significantly reduced balance-of-system (BoS) costs.
A reduction of system costs was the the main focus from the beginning of the development of the innovative REFUsol 333K concept; however it inherently facilitates the PV designer to build the entire PV system with higher conversion efficiency.
State-of-the-art technology
The idea of increasing the voltage level of PV grid inverters was based on the experience of system voltage commonly used in prevailing wind industry, so that industrially manufactured standard transformers and compensators required could easily be made available. REFUsol 333K central inverter, having an AC output voltage of 690V and an input DC voltage of 1500V, is designed with special capacitors and highly efficient switching devices. With an output of 333kW and the patented UltraEta® circuit topology, the inverter has a unique peak efficiency of 98.5 percent and a European efficiency of 98.2 percent, and, thanks to a wide input MPPT range of 575-1150 volts with a highly efficient MPP tracking, ensures highest level yield for a PV system.
The high AC and DC voltages have the advantage that line losses can be reduced almost everywhere in the system. Firstly, in the inverter, which forms the part of efficiency gain, and secondly the cable losses in the PV installation, which will be significantly lowered. In addition, the installation costs for cabling and the associated costs are reduced.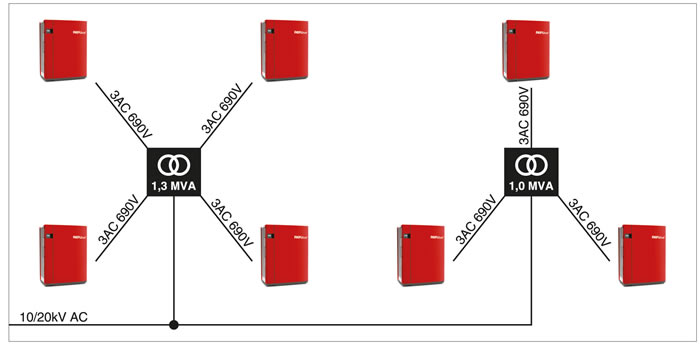 Benefits of using REFUsol 333K
Higher input DC voltage range facilitates to design the plant with a large number of modules in a string, allowing PV side design optimization in terms of string/array and mounting structure design. It should be noted that for the desired output, plant planning with inverter DC input voltage lower than 1500V will require a greater number of strings, more mounting structures and larger cross section cables with more DC cable length.
Compared to the 400-V system at 690 volts overall system losses shall be decreased to 58 percent of its original value. The higher output voltage leads to a reduction of transmission losses by 76 percent for the same cross-section. The losses in the cables between the Inverter and medium-voltage transformer can be reduced by one third. REFUsol 333K is a transformer-less inverter, and multiple devices can be connected to a transformer to operate in parallel, which allows cheaper installation with reduced losses.
If compared to a system designed with conventional central inverters, systems designed with REFUsol 333K inverter would save typically around five percent of Balance of System (BoS) cost. However, savings of two percent can be estimated in overall capital cost of the installation.
The compact design and light weight of 333K lead to more cost-efficient handling, which minimizes logistics and infrastructure costs. Due to the outdoor enclosure technology in IP65 design, the inverter is dust- and splash-proof. A robust and low-maintenance temperature controlled air cooling system allows for operation under extreme climatic conditions. The possible field of application extends to an altitude of 3000 feet and ambient temperatures from -20 to +55 degrees Celsius. Due to the optimized packaging technology, the maintenance of the REFUsol 333K is very simple.
Easy communication
The REFUsol 333K is equipped with an integrated data logger which automatically records all relevant data and parameters and forwards them to the web-based portal REFUlog for analysis and visualization. The performance of the PV system can be easily monitored by communication through wireless network via REFUconnect. The self-organizing wireless module can be connected with up to 2000 intelligent inverters. REFUconnect builds redundant links in the network automatically, thus ensuring a trouble free and stable transmission.
The new central inverter REFUsol 333K meets both the central and the low voltage directive. Thus, the REFUsol 333K is the ideal solution for all project engineers and installers. The innovative concept has created a strong positive impact in entire solar power industry and associated business segments creating considerable demand for the product in short duration. Responding to the increased demand REFUsol has expanded the production capacity for the new central inverters.
---
Comments (0)
This post does not have any comments. Be the first to leave a comment below.
---
Post A Comment
You must be logged in before you can post a comment. Login now.
Featured Product
The Iron Edison Lithium Iron solar battery is fully compatible with popular battery-based inverters and is housed inside a rugged steel enclosure with integrated Battery Management System. Standard capacities range from 2 kWh to 42 kWh, with custom high-capacity and high-voltage models available for commercial applications like peak load shaving and UPS. The battery is designed and assembled at the company's headquarters just outside of Denver, Colorado. The Iron Edison Lithium Iron battery is an ideal replacement for lead-acid battery, with longer cycle life, smaller footprint, and maintenance-free operation. Residential applications include solar battery backup, grid-zero and off-grid energy storage. Commercial applications include high voltage battery backup, off-grid telecommunications power and peak load shaving. If you have any questions, please call us at 720-432-6433. We are happy to help!