In the realm of clean energy and the US drive to reduce dependency on foreign fuel imports, Google and other IT giants could wield a significant amount of influence, both on the public and on policy.
Just How Green is Google
Jen Alic | OilPrice.com
Google may have a bad track record on privacy practices, but when it comes to green, the internet giant is clean, racking up over $850 million in investments to develop and deploy clean energy and earning the top spot on Greenpeace's list of IT giants who are using and advocating for clean energy.
In February, Greenpeace ranked Google the best on its "Cool IT Leaderboard", although it only scored 53 out of 100 points on the ranking system, still putting it ahead of Cisco, with 49 points. But it was a reluctant gift from Greenpeace, which has been hounding the IT giant for some time over its long overdue moves to shift to green and to use its influence and outreach to advocate for renewable energy.
Google may have gotten off to a slow green start, but in the long term, the IT giant should benefit from the move. It is now sourcing more than 20% of its global energy use from green sources such as solar and wind. As a major consumer of energy, reducing consumption will help its profit margins and its clean energy efforts should boost its public image at a time when Google is mired in litigation over privacy practices.
And Google's influence should not be underestimated, which is something Greenpeace understands well. Not only is Google going green, it's also dabbling in policy initiatives, offering up its own clean energy proposals for government consideration (such as a plan to remove US dependency on fossil fuels entirely within 22 years).
So far, Google has invested $10 million in two solar companies, eSolar and Brightsource, and has created a $280 million fund with SolarCity in California to install solar panels in 9,000 homes on a lease option. The IT giant has invested another $15 million in wind energy, and $10 million in enhanced geothermal systems. Most significantly, Google Ventures has launched a $100 million venture capital fund for innovative clean technology start-ups. Beyond that, the IT giant is seeking to foray into the utility sector by applying for a license to sell bulk electricity. Smart grids and plug-in cars are also on its list of green projects, as are a number of riskier ventures, including work on a heliostat - a mirrored device that directs the sun's rays to create thermal energy - and high-altitude flying wind turbines.
While Google and other IT giants such as Cisco, Ericsson and Dell top Greenpeace's clean energy use and advocacy list, the environmental groups says that there is still an insufficient amount of movement in terms of addressing pollution. "Google tops the table because it's putting its money where its mouth is by pumping investment into renewable energy," Greenpeace International analyst Gary Cook told reporters upon the release of the "Cool IT Leaderboard." However, he said, while the IT industry is driving significant energy demand with its data centers and global infrastructure, when it comes to addressing pollution, action has been slow.
Certainly, Google's original plans for energy have been scaled down, and many of the more eclectic projects the company once envisioned have been cancelled as results were not forthcoming as predicted. Still, the company is now investing more in clean energy than ever - in fact, ten times more than in 2010. This is a remarkable sum for an IT company when you compare it to renewable energy investments in energy giants such as BP, for instance, which invested around $1.6 billion in 2010. Google's focus has shifted from the eclectic to the practical, a shift most clearly seen in its drive to deploy commercial solar panels and wind turbines - investments that promise a return.
In the realm of clean energy and the US drive to reduce dependency on foreign fuel imports, Google and other IT giants could wield a significant amount of influence, both on the public and on policy. Now that that IT giants are largely on board with the clean energy initiative - though the jury is still out on Apple and Oracle - this momentum should pick up pace.
---
Comments (0)
This post does not have any comments. Be the first to leave a comment below.
---
Post A Comment
You must be logged in before you can post a comment. Login now.
Featured Product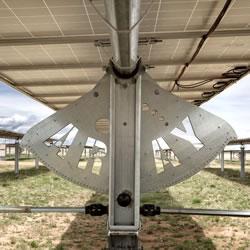 With more than 2 gigawatts shipped around the world and 25 years of experience, Array Technologies, Inc. (ATI) ensures value, reliability, and bankability for your solar project through its proven ground mount tracking and racking solutions. ATI's leading products, DuraTrack HZ single-axis horizontal solar tracker and DuraRack fixed-tilt rack, combine a minimization of materials with rugged reliability to promote rapid installation times and project longevity. From the frozen tundra of Alaska to the deserts of Chile, ATI provides high quality solar tracking and racking solutions for every location and environment. ATI's industry-leading engineering and project management is included with each utility-scale and commercial project to provide a fully-supported and customized solution for your project. For more information on our products and services, please stop by Intersolar North America booth 9725.