WorldWide Solar Cell Production Growth Flattens but still Gigantic in 2011
Global PV cell production grew to an impressive 37.2 GW in 2011, according to a market survey by PHOTON International - The Solar Power Magazine, for a 36-percent increase over the 27.4 GW produced in 2010.

But the annual survey also reveals a dramatic reduction in year-on-year growth. Compared to a record 120-percent jump in 2010, the 2011 cell output was the PV industry's lowest growth rate since a 34-percent increase in 2003. The survey also shows a continuation of Asian dominance, with six Chinese manufacturers in the top 10 - with Suntech Power in first place for the second year in a row - and two from Taiwan. For the first time since PHOTON International began surveying solar cell producers, the top 10 did not include any solar cell producers from Europe or Japan.

"The days of solar cell production in western countries are numbered," says Michael Schmela, editor-in-chief of PHOTON International. "Like other commodities, solar cell production will continue its rapid shift to low-labor-cost countries in Asia, especially China." In 2008, only 33 percent of solar cells were made in China, a share that grew to an impressive over 57 percent in 2011.

Comments (0)
This post does not have any comments. Be the first to leave a comment below.
---
Post A Comment
You must be logged in before you can post a comment. Login now.
Featured Product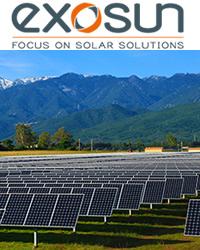 Global leader, Exosun designs, develops and supplies highly reliable and robust solar tracking systems for utility-scale PV plants, delivered with a full range of engineering support services. Its flagship product, the Exotrack® HZ horizontal single-axis tracker, increases plant production up to 25% in comparison to fixed-tilt systems and is a genuine revenue booster for your solar project. UL 3703 compliant, Exotrack® HZ has been designed for fast and simple installation, as well as for minimal preventive operation and maintenance actions. Its unique centralized control-command system can monitor up to 8 MWp of trackers. Exotrack® HZ's intelligent patented tracking process, called SMARTracking, allows to generate up to 5% higher yield than any other single-axis tracker technology.