BrightSource shelves second major solar project this year
BrightSource Energy on Wednesday shelved a major solar power project in California for the second time this year.
In a document filed with the California Energy Commission, BrightSource said it "has determined there is a need to suspend" its application to permit the 500 megawatt Hidden Hills solar thermal power project until further notice.
The company did not give a reason for the suspension, and company officials were not immediately available for comment.
BrightSource, based in Oakland, said it will continue to evaluate the project, which was to be located in Inyo County near the Nevada border.
In January, BrightSource suspended its 500 MW Rio Mesa project in Riverside County, California after multiple delays in the permitting process.
Late last year, CEC staff said the Hidden Hills project would have "significant" impact on the environment, adding that the use of photovoltaic solar panels "would be environmentally superior" to BrightSource's solar thermal technology.
BrightSource disputed those claims at recent hearings, and the CEC was expected to issue a final decision on the project later this year.
Comments (0)
This post does not have any comments. Be the first to leave a comment below.
---
Post A Comment
You must be logged in before you can post a comment. Login now.
Featured Product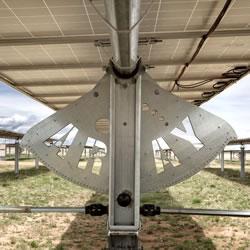 With more than 2 gigawatts shipped around the world and 25 years of experience, Array Technologies, Inc. (ATI) ensures value, reliability, and bankability for your solar project through its proven ground mount tracking and racking solutions. ATI's leading products, DuraTrack HZ single-axis horizontal solar tracker and DuraRack fixed-tilt rack, combine a minimization of materials with rugged reliability to promote rapid installation times and project longevity. From the frozen tundra of Alaska to the deserts of Chile, ATI provides high quality solar tracking and racking solutions for every location and environment. ATI's industry-leading engineering and project management is included with each utility-scale and commercial project to provide a fully-supported and customized solution for your project. For more information on our products and services, please stop by Intersolar North America booth 9725.