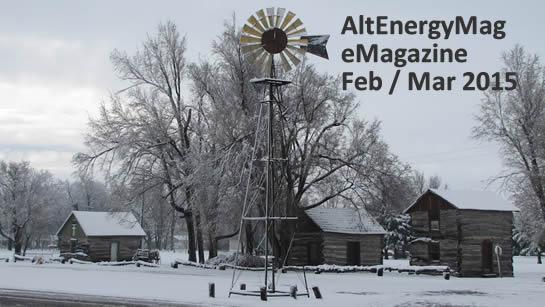 Featured Articles


The Solar Industry Is a Friend, Not a Frenemy

02/16/15, Deborah Lawrence, Institute for Energy Economics and Financial Analysis
Fossil-fuel industries are boom and bust. Renewables don't have to be.

Thunder Bay Generating Station Now Fuelled by Advanced Biomass

02/16/15, Contributed by, Ontario Power Generation (OPG)
Ontario's Thunder Bay 150-megawatt generating station is now fully operational using clean-burning advanced biomass fuel – sawdust pellets from the province's lumber industry.

Super Grid – Renewable Energy from Remote Sites to Cities (Projects and Challenges)

02/02/15, Pradhnya Tajne , Transparency Market Research
Just imagine, a super grid will allow Norway's hydro-power to light up a restaurant in Italy, Belgium's wind farms to provide power to a home in U.K., and Saharan solar power plants to run a factory in Germany.

Are Solar Highways Coming?
02/02/15, Len Calderone for, AltEnergyMag
Solar roads would consist of individual panels with three layers. The top layer would consist of a high-strength textured glass that provides traction for vehicles. The second layer would be an array of solar cells for gathering the energy, and on the bottom, a base plate that distributes the collected power.

Solar Energy Stock Index Q4 2014
02/02/15, Contributed by, Lincoln International
Solar Energy Index Underperforms S&P in Q4 2014

How Solar Power is Trending Worldwide in 2015

02/02/15, Tom Morley, Greenpower Technology
India is a late player but is pushing ahead to include solar power as part of its portfolio of energy sources. China is pushing ahead with ambitious solar plans in a bid to generate more electricity from renewable energy.

Novel Net Meter Solar PV System in Hawaii

02/02/15, Contributed by, HNU Energy
The Sunnyside Energy system consists of 90 STION 135W panels mounted in two arrays, each equipped with a 5 kW Solar Edge inverter.

Hawaii's electric system is changing with rooftop solar growth and new utility ownership

02/02/15, Reprinted with permission from, Today in Energy
The high electricity prices in Hawaii have made wind and solar technologies economically attractive alternatives, especially as their technology costs have come down in recent years.

How Clean Energy Can Power Climate Action During Obama's Visit to India

02/02/15, Anjali Jaiswal & Meredith Connolly, NRDC
Prioritizing clean energy during the Republic Day visit can provide energy access solutions, create jobs, and open a huge market opportunity to Indian and American companies alike - while taking concrete action on climate change.

Reflections from Breakthrough Marine Energy Trials
01/14/15, Anders Jansson, CEO, Minesto
The marine power plant Deep Green has now been producing electricity for more than a year, and Minesto's founder and CEO Anders Jansson shares his experiences from the trials in this article.

Solar Market Predictions for 2015

01/14/15, Contributed by, IHS
IHS Technology analysts top 10 predictions for the 2015 global photovoltaic (PV) market

Case Study - 28kW Custom Carport in Frederick, MD

01/14/15, Contributed by, PV Racking
The PV Racking clamp-free rail was a great solution for this carport, as it helped to eliminate rain water leaking through the arrays in comparison to a traditional clamp-based system.


Interviews

U.S. Department of Energy's Wave Energy Prize

02/16/15, Alison LaBonte , U.S. Department of Energy (DOE)
The Department of Energy is investing in renewable energy through the Wave Energy Prize and is offering an opportunity for both seed funding and prize purses totaling more than $1 million for qualified prize participants.

Amyris-Total Renewable Jet Fuel
02/16/15, Fernando Garcia, Amyris Inc.
Amyris' innovative bioscience technology directly converts plant sugars into hydrocarbon molecules to create the renewable fuel, and the technology enables the operations of the Amyris-Total partnership to deliver the fuel from "field to wing."

02/02/15, Chris Orcutt


Will China Be The First To Mine Lunar Energy?

Training Program for Military Veterans to Maintain Growing Solar and EV Infrastructure

01/14/15, Rue Phillips, True South Renewables
Rather than focus on any one particular technology, the EFST training course educates the participants about the common technologies and service requirements that touch multiple markets, most notably the solar and electric vehicle charging equipment infrastructure.

More Articles

Upcoming Tradeshow, Conference & Exhibition Summary

March, April, May 2015
01/14/15, Brandon Hetherington for, AltEnergyMag
2015 promises to be another banner year for the Renewable Energy Industry. Solar and Wind will continue to grow and Energy Storage will continue to dominate the conversation. April offers up some great Energy Storage events here in North America and Europe.

01/05/15, Len Calderone for , AltEnergyMag
The world will need as much capacity as it can get from all fuel sources to satisfy the demand of growing populations.

Maintaining Optimum Battery Power Levels During the Winter Months

01/05/15, Fred Wehmeyer, U.S. Battery Manufacturing
Knowing how your batteries operate in cold weather conditions can greatly help you keep track of your battery packs' health, and more importantly allow you to maintain your power needs when you need it most.

9 Things You Need To Know About 2014 And Beyond

01/05/15, Scott Wiater, Standard Solar
It's an exciting time to be in the solar industry, both for what we've accomplished in 2014 and what we will accomplish in the coming year.

Aarsleff Goes Green with Modern Hybrid Power

01/05/15, Contributed by, Clayton Power
Clayton Power made it possible for Per Aarsleff to both go green and reduce costs by clever implementation of mobile hybrid power systems based on lithium technology.

Atmospheric carbon dioxide used for energy storage products

01/05/15, Contributed by, Oregon State University
Because the materials involved are inexpensive and the fabrication is simple, this approach has the potential to be scaled up for production at commercial levels.

Top 5 Innovations of the Decade in Renewable Energy

01/05/15, Pradhnya Tajne
According to TMR, the global green energy market will reach a value of USD 831.99 billion by 2019.

---

About AltEnergyMag

AltenergyMag is a community website where those of you who work in the Alternative Energy Industry are invited to contribute articles, news and product information for your peers to read and discover. Our philosophy is to create an outlet where the industry can report on itself.

Please take a moment to look around the site and give us some feedback. Then "Get Listed" by submitting your Company, uploading a news story or contributing an article for this eMagazine.
Comments (0)
This article does not have any comments. Be the first to leave a comment below.
Post A Comment
You must be logged in before you can post a comment. Login now.