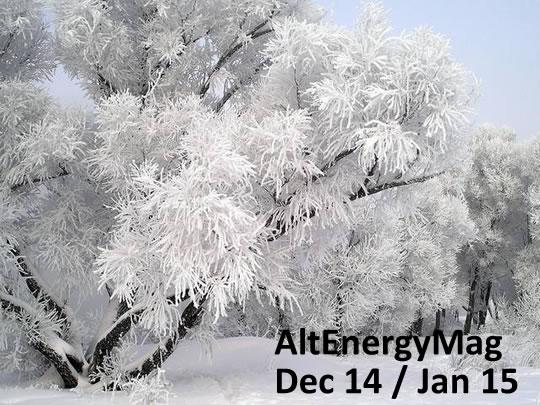 Featured Articles




United States Installs 1,354 MW of Solar in Q3 2014

12/15/14, Contributed by, Solar Energy Industries Association
The report forecasts the U.S. to install 6.5 GW of PV in 2014, a 36 percent increase over the historic 2013.

Turquoise calls for clarity on UK energy goals

12/15/14, Robin Whitlock , Freelance Journalist/Writer
Turquoise International has called for more clarification concerning the prioritisation of technologies in the UK energy sector.

Iskandar: Planning Towards a Low Carbon Economy

12/15/14, Rajnish Ahuja, Pahle India Foundation
Such a multi-pronged approach to develop the new and existing cities would yield to a sustainable environment within Asian cities.

The Fuel Cell Industry Review 2014

12/01/14, Reprinted with permission from, E4tech
The Fuel Cell Industry Review 2014 offers data and analysis by region, application, and fuel cell type, and includes objective commentary on key events in the industry over the past year.

Solar photovoltaic output depends on orientation, tilt, and tracking
12/01/14, Reprinted with permission from, Today in Energy
Tilt angles may reflect factors other than generator performance. Some installation sites may not be conducive to tilted arrays or specific orientations

Optimizing a Solar Array's Tilt and Module Spacing
12/01/14, Contributed by, Folsom Labs
System optimization is more than just good-looking charts – in this case, we are able to increase system profit by $40k, an increase of over 70% versus the 15º-tilt baseline design.

12/01/14, Len Calderone for, AltEnergyMag
In the United States, more than half of the energy we burn each year gets lost as heat instead of being put to use with most of the energy going out the exhaust pipe of a car or out the smokestack of a power plant.

Q3 2014 Deal Volume Comparison
12/01/14, Reprinted with permission from, Lincoln International
Acquisition activity in Q3 2014 was lower than most quarters in recent history. Activity was distributed relatively evenly across the solar markets in Europe, North America and Asia, with cross-continental deals accounting for the greatest number of transactions.

Utilizing Geographical Information Systems (GIS) for Alternative Energy Projects
12/01/14, Dan Liggett, geoAMPS
With GIS, companies can view, understand, question, interpret and visualize data in many ways that reveal relationships, patterns and trends in the form of maps, globes, reports and charts.

Toyota Launches the Mirai Fuel Cell Electric Car
12/01/14, Contributed by, ITM Power
ITM Power, the energy storage and clean fuel company, is pleased to note that the world's largest carmaker, Toyota, announced that it will begin selling fuel-cell electric cars in Japan on 15 December, 2014, and in the US and Europe in mid-2015.

Creating Roads from Waste
12/01/14, Rajnish Ahuja,, Associate Fellow at Pahle India Foundation
The roads constructed using this technology are more durable and economical than the conventional bitumen roads.

11/17/14, Steven Fine, Ankit Saraf, Kiran Kumaraswamy, Alex Anich, ICF International
In this paper, we look at the current state of value of solar (VOS) analysis and propose a more holistic methodology that can be consistently applied across various utility service areas.

The Business Case for Fuel Cells 2014: Powering the Bottom Line for Business and Communities
11/17/14, Sandra Curtin, Fuel Cell and Hydrogen Energy Association
From high efficiency to scalability, fuel cells provide a distinct advantage over incumbent energy generation technologies, which is why top companies, governments, and the military are adopting fuel cells for everyday use.

The new EU climate and energy proposal:
What are the consequences?
11/17/14, Carlo Carraro, International Center for Climate Governance
The decisions of the European Council indicate the desire for greater integration of European energy markets, with an integration target of 10% by 2030.

Upcoming Tradeshow, Conference & Exhibition Summary - Jan, Feb, Mar 2015
11/17/14, Brandon Hetherington for, AltEnergyMag
The end of the year is a very busy time for Renewable Energy Tradeshows, so come January the schedule slows down a bit.


Interviews

1500 volt vs. 1000 volt system with distributed electronics: Which lowers system cost more?

12/15/14, Mark Kanjorski, Ampt
This discussion poses the important question, "What are the considerations and tradeoffs of both designs – 1500 volt vs 1000 volt with distributed electronics – and which should you choose?"

First Solar Strategic Investment in Clean Energy Collective (CEC)

12/15/14, Contributed by, First Solar
This partnership marks an important milestone in the quest to significantly broaden the availability of affordable, local clean energy production to residential and commercial ratepayers.

Hydrogen Fuel Cells for Cars and More

12/15/14, Tim Young, HyperSolar
When hydrogen is compressed, it is much more energy-dense than even the most advanced batteries.

12/15/14, Stephane Dufrenne, Upsolar America, Inc.
The Energy Freedom Loan is a turnkey financing solution that benefits both homeowners and installers.

The Echogen Power Systems Heat Engine

11/17/14, Philip Brennan and Timothy Held, Echogen Power Systems
Waste Heat to Power (WHP) creates electricity by heating a fluid at high pressure, then expanding the fluid through a turbine to power an electric generator.

The Pakistan Solar Association
11/17/14, Engr. Faiz M Bhutta, Chairman Pakistan Solar Association (PSA) and Director of Solar Institute ( pvt) Ltd
PSA is fighting for zero duty imports until the local solar industry grows enough to address quantity and quality requirements of the solar tenders in Pakistan.

10/31/14, Brian Go, LETO Solar
Essentially, we're giving the solar panel a brain; the patented HEMOS chipset can be fitted in a typical junction of any solar panel. With it you can communicate directly with the panel and execute commands at the module level.

The State of the Solar Industry in North America

10/31/14, Ray Hudson, Jenya Meydbray, Rick Fioravanti, Jerry Melcher, DNV GL
The recent surge in storage activity has its roots in a general consensus being reached by stakeholders that the technologies are on a path that will enable them to achieve the cost, performance, and reliability targets that have been promised.

Energy in California Conference 2014
10/31/14, Annie Mudge, Cox, Castle & Nicholson
Being very involved in getting environmental permits to build renewable energy facilities, I am very interested in the question of how the industry is going to solve the grid integration issue. Since renewable energy is generated during daylight hours and the highest period of demand is in the evening, there is a mismatch.

More Articles

11/17/14, Danielle Kershner, Eco Branding
According to a new study by Berkeley Lab, distributed solar photovoltaics (PV) are the most immediate threat to investor-owned utilities and their shareholders, by depleting revenue from demand growth and need for capital investments in traditional power plants.

Hybrid Energy Sources for the Home

10/31/14, Len Calderone for, AltEnergyMag
When considering hybrid systems composed of photovoltaic solar panels, geothermal, hydro or wind turbines, the whole is greater than its parts, but you need to understand the best type of energy generation that can be used in your area.

EPA 111(d) Clean Power Plan Could Increase Energy Efficiency Impacts, Net Benefits, and Total Value
10/31/14, David Pickles, Bill Prindle, Chris MacCracken, Steven Fine, and Phil Mihlmester, ICF International
This white paper takes a novel, nationwide approach to estimating an overall impact on emissions and cost. It sheds light on the role that energy efficiency can play as a compliance mechanism.

How Solar is Going Mainstream (Batteries!)
10/31/14, Raghu Belur, Enphase Energy
The Enphase system intelligently integrates the critical technologies needed to solve solar energy challenges at scale: smart grid intelligence, communications, big data analytics and storage.

2015 State Solar Power Rankings
10/31/14, Ben Zientara, Solar Power Rocks
Of the top ten states for solar, only New Mexico is what we would consider a traditionally "sunny" state. And most of the top ten is made up of northeastern states, which see plenty of wind, rain, snow, and clouds.

Everything is Bigger in Texas – or not:
The State of the Texas Solar and Electricity Markets
10/31/14, Lionel Johnnes, Circular Energy and Texas Solar Energy Society
Today, Texas only has 200 MW of solar capacity, less than New Jersey, Massachusetts, and a handful of other states.

California Electric Car Owners Can Get Cheaper Car Insurance
10/31/14, Contributed by, Nolpeg Research Team
California could be at the forefront of these car insurance savings because it is one of the earliest adopters of clean cars (including Hybrids, Plug Ins & electric cars) in the nation.

---

About AltEnergyMag

AltenergyMag is a community website where those of you who work in the Alternative Energy Industry are invited to contribute articles, news and product information for your peers to read and discover. Our philosophy is to create an outlet where the industry can report on itself.

Please take a moment to look around the site and give us some feedback. Then "Get Listed" by submitting your Company, uploading a news story or contributing an article for this eMagazine.
Comments (0)
This article does not have any comments. Be the first to leave a comment below.
Post A Comment
You must be logged in before you can post a comment. Login now.