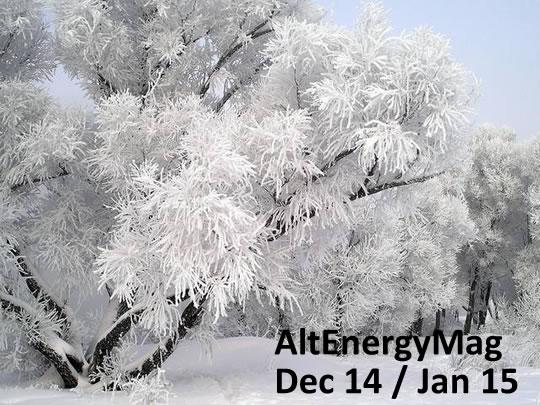 Featured Articles

Reflections from Breakthrough Marine Energy Trials
01/14/15, Anders Jansson, CEO, Minesto
The marine power plant Deep Green has now been producing electricity for more than a year, and Minesto's founder and CEO Anders Jansson shares his experiences from the trials in this article.

Solar Market Predictions for 2015

01/14/15, Contributed by, IHS
IHS Technology analysts top 10 predictions for the 2015 global photovoltaic (PV) market

Case Study - 28kW Custom Carport in Frederick, MD

01/14/15, Contributed by, PV Racking
The PV Racking clamp-free rail was a great solution for this carport, as it helped to eliminate rain water leaking through the arrays in comparison to a traditional clamp-based system.

Upcoming Tradeshow, Conference & Exhibition Summary

March, April, May 2015
01/14/15, Brandon Hetherington for, AltEnergyMag
2015 promises to be another banner year for the Renewable Energy Industry. Solar and Wind will continue to grow and Energy Storage will continue to dominate the conversation. April offers up some great Energy Storage events here in North America and Europe.

01/05/15, Len Calderone for , AltEnergyMag
The world will need as much capacity as it can get from all fuel sources to satisfy the demand of growing populations.

Maintaining Optimum Battery Power Levels During the Winter Months

01/05/15, Fred Wehmeyer, U.S. Battery Manufacturing
Knowing how your batteries operate in cold weather conditions can greatly help you keep track of your battery packs' health, and more importantly allow you to maintain your power needs when you need it most.

9 Things You Need To Know About 2014 And Beyond

01/05/15, Scott Wiater, Standard Solar
It's an exciting time to be in the solar industry, both for what we've accomplished in 2014 and what we will accomplish in the coming year.

Aarsleff Goes Green with Modern Hybrid Power

01/05/15, Contributed by, Clayton Power
Clayton Power made it possible for Per Aarsleff to both go green and reduce costs by clever implementation of mobile hybrid power systems based on lithium technology.

Atmospheric carbon dioxide used for energy storage products

01/05/15, Contributed by, Oregon State University
Because the materials involved are inexpensive and the fabrication is simple, this approach has the potential to be scaled up for production at commercial levels.

Top 5 Innovations of the Decade in Renewable Energy

01/05/15, Pradhnya Tajne
According to TMR, the global green energy market will reach a value of USD 831.99 billion by 2019.

United States Installs 1,354 MW of Solar in Q3 2014

12/15/14, Contributed by, Solar Energy Industries Association
The report forecasts the U.S. to install 6.5 GW of PV in 2014, a 36 percent increase over the historic 2013.

Turquoise calls for clarity on UK energy goals

12/15/14, Robin Whitlock , Freelance Journalist/Writer
Turquoise International has called for more clarification concerning the prioritisation of technologies in the UK energy sector.

Iskandar: Planning Towards a Low Carbon Economy

12/15/14, Rajnish Ahuja, Pahle India Foundation
Such a multi-pronged approach to develop the new and existing cities would yield to a sustainable environment within Asian cities.

The Fuel Cell Industry Review 2014

12/01/14, Reprinted with permission from, E4tech
The Fuel Cell Industry Review 2014 offers data and analysis by region, application, and fuel cell type, and includes objective commentary on key events in the industry over the past year.


Interviews

Training Program for Military Veterans to Maintain Growing Solar and EV Infrastructure

01/14/15, Rue Phillips, True South Renewables
Rather than focus on any one particular technology, the EFST training course educates the participants about the common technologies and service requirements that touch multiple markets, most notably the solar and electric vehicle charging equipment infrastructure.

1500 volt vs. 1000 volt system with distributed electronics: Which lowers system cost more?

12/15/14, Mark Kanjorski, Ampt
This discussion poses the important question, "What are the considerations and tradeoffs of both designs – 1500 volt vs 1000 volt with distributed electronics – and which should you choose?"

First Solar Strategic Investment in Clean Energy Collective (CEC)

12/15/14, Contributed by, First Solar
This partnership marks an important milestone in the quest to significantly broaden the availability of affordable, local clean energy production to residential and commercial ratepayers.

Hydrogen Fuel Cells for Cars and More

12/15/14, Tim Young, HyperSolar
When hydrogen is compressed, it is much more energy-dense than even the most advanced batteries.

12/15/14, Stephane Dufrenne, Upsolar America, Inc.
The Energy Freedom Loan is a turnkey financing solution that benefits both homeowners and installers.

More Articles

Solar photovoltaic output depends on orientation, tilt, and tracking

12/01/14, Reprinted with permission from, Today in Energy


Tilt angles may reflect factors other than generator performance. Some installation sites may not be conducive to tilted arrays or specific orientations

Optimizing a Solar Array's Tilt and Module Spacing

12/01/14, Contributed by, Folsom Labs
System optimization is more than just good-looking charts – in this case, we are able to increase system profit by $40k, an increase of over 70% versus the 15º-tilt baseline design.

12/01/14, Len Calderone for, AltEnergyMag
In the United States, more than half of the energy we burn each year gets lost as heat instead of being put to use with most of the energy going out the exhaust pipe of a car or out the smokestack of a power plant.

Q3 2014 Deal Volume Comparison
12/01/14, Reprinted with permission from, Lincoln International
Acquisition activity in Q3 2014 was lower than most quarters in recent history. Activity was distributed relatively evenly across the solar markets in Europe, North America and Asia, with cross-continental deals accounting for the greatest number of transactions.

Utilizing Geographical Information Systems (GIS) for Alternative Energy Projects

12/01/14, Dan Liggett, geoAMPS
With GIS, companies can view, understand, question, interpret and visualize data in many ways that reveal relationships, patterns and trends in the form of maps, globes, reports and charts.

Toyota Launches the Mirai Fuel Cell Electric Car
12/01/14, Contributed by, ITM Power
ITM Power, the energy storage and clean fuel company, is pleased to note that the world's largest carmaker, Toyota, announced that it will begin selling fuel-cell electric cars in Japan on 15 December, 2014, and in the US and Europe in mid-2015.

Creating Roads from Waste
12/01/14, Rajnish Ahuja,, Associate Fellow at Pahle India Foundation
The roads constructed using this technology are more durable and economical than the conventional bitumen roads.

---

About AltEnergyMag

AltenergyMag is a community website where those of you who work in the Alternative Energy Industry are invited to contribute articles, news and product information for your peers to read and discover. Our philosophy is to create an outlet where the industry can report on itself.

Please take a moment to look around the site and give us some feedback. Then "Get Listed" by submitting your Company, uploading a news story or contributing an article for this eMagazine.
Comments (0)
This article does not have any comments. Be the first to leave a comment below.
Post A Comment
You must be logged in before you can post a comment. Login now.