Hot Stories
Submitted on 11/20/14, 06:17 AM | Click Here for the full article: VOX.com
Why Google halted its research into renewable energy
Back in 2007, Google had a very simple idea for addressing global warming — we just need to take existing renewable-energy technologies and keep improving them until they were as cheap as fossil fuels. And, voila! Problem solved.
That was the logic behind the company's RE-C project, which aimed to produce one gigawatt of renewable electricity for less than the price of coal. The hope was to do this within years, not decades. Among other things, the company invested in new geothermal drilling R&D and put $168 million toward Brightsource's Ivanpah solar tower in the Mojave Desert.
By 2011, however, Google decided that this "moon shot" energy initiative wasn't going to work out as planned and shut things down. So what happened?
In a long essay at IEEE Spectrum, two Google engineers on the project — Ross Koningstein and David Fork — explain the thinking behind the closure. It's not that Google has given up on renewable energy. (The company still spends many millions of dollars buying wind energy for its servers.) Partly it's that they simply weren't on track to achieve their specific goals.
But, more interestingly, the project also made the engineers realize that their original clean-energy goal wasn't nearly ambitious enough.
Cont'd...
Submitted on 11/18/14, 10:50 AM | Click Here for the full article: CNBC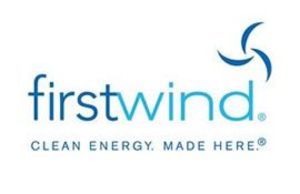 SunEdison, TerraForm to buy First Wind for $2.4B
Solar company SunEdison and unit TerraForm Power said they would buy First Wind for $2.4 billion to enter the U.S. wind power market.
SunEdison's shares rose 6.6 percent to $17.70, while TerraForm shares rose 1.2 percent to $26.15 in after-market trading.
The deal comprises $1.9 billion in upfront payment and $510 million in earn-outs, the companies said.
Boston-based First Wind is operating or building renewable energy projects in the Northeast, the West and Hawaii, with a combined capacity of nearly 1,300 megawatts (MW) - enough to power more than 425,000 homes each year.
SunEdison raised its 2015 installation forecast to 2.1-2.3 gigawatts (GW) from 1.6-1.8 GW. TerraForm increased its 2015 dividend forecast to $1.30 per share from 90 cents.
TerraForm was created by SunEdison to own and operate its solar power plants. TerraForm went public in July.
The deal is expected to close during the first quarter of 2015, the companies said.
Submitted on 11/17/14, 06:50 AM | Click Here for the full article: NY Times
Denmark Aims for 100 Percent Renewable Energy
Denmark, a tiny country on the northern fringe of Europe, is pursuing the world's most ambitious policy against climate change. It aims to end the burning of fossil fuels in any form by 2050 — not just in electricity production, as some other countries hope to do, but in transportation as well.
Now a question is coming into focus: Can Denmark keep the lights on as it chases that lofty goal?
Lest anyone consider such a sweeping transition to be impossible in principle, the Danes beg to differ. They essentially invented the modern wind-power industry, and have pursued it more avidly than any country. They are above 40 percent renewable power on their electric grid, aiming toward 50 percent by 2020. The political consensus here to keep pushing is all but unanimous.
Their policy is similar to that of neighboring Germany, which has spent tens of billions pursuing wind and solar power, and is likely to hit 30 percent renewable power on the electric grid this year. But Denmark, at the bleeding edge of global climate policy, is in certain ways the more interesting case. The 5.6 million Danes have pushed harder than the Germans, they have gotten further — and they are reaching the point where the problems with the energy transition can no longer be papered over.
Submitted on 11/14/14, 05:38 AM | Click Here for the full article: Huffington Post
U.S. Department Of Energy Loan Program Breaks Even
The controversial government program that funded failed solar company Solyndra, and became a lighting rod in the 2012 presidential election, is officially in the black.
According to a report by the Department of Energy, interest payments to the government from projects funded by the Loan Programs Office were $810 million as of September - higher than the $780 million in losses from loans it sustained from startups including Fisker Automotive, Abound Solar and Solyndra, which went bankrupt after receiving large government loans intended to help them bring their advanced green technologies to market.
The report's findings are more of a political victory than a financial one. It took the program three years to break even after Solyndra's failure, while during that same time the Standard & Poor's 500 index increased 67 percent.
Still, the federal loans program is a success for taxpayers, judging by the numbers in the new report, the DOE said. After Solyndra's 2011 collapse, the program was sharply criticized by Republican lawmakers as a waste of public money and a fountain of cronyism. The outcries mounted as others in the program failed, and the DOE issued no new loans between late 2011 and this year.
"Taxpayers are not only benefitting from some of the world's most innovative energy projects... but these projects are making good on their loan repayments," Peter Davidson, executive director of the Loan Programs Office, said in an interview on Wednesday. Davidson took over the loan program in May of 2013.
Submitted on 11/12/14, 06:09 AM | Click Here for the full article: CNBC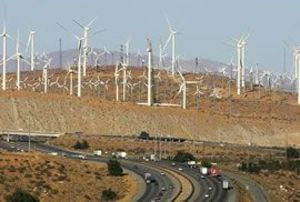 U.S.-China smackdown: America No. 1 in wind power
Climate-conscious Americans have long glanced enviously across the Pacific to China and its ever-growing number of often-gargantuan wind farms.
It turns out that they have less to be jealous about than previously thought: The United States has more wind energy powering its grid than any other country in the world, says a report by EDF Renewable Energy, the largest third-party provider of operations and maintenance for wind renewable-energy projects in the country.
Though China has more megawatts of wind turbines installed than the U.S—about 90,000 to America's 60,000—the U.S. actually produces more electricity that is delivered to the grid, which in turn reaches more businesses and homes. And while China's wind industry delivered less than 138 billion kilowatt-hours in 2013, the U.S.'s delivered more than 167 billion.
That's 20 percent more than China. And the U.S.'s generation has been growing steadily since 2008, when it first overtook Germany to become the world's No. 1 producer.
Submitted on 11/10/14, 05:36 AM | Click Here for the full article: Standard Examiner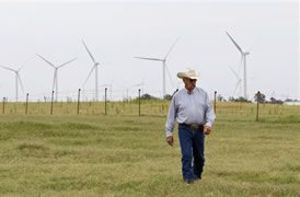 Why Google, Microsoft and Yahoo are buying up wind energy
Google, Yahoo and Microsoft are part of a growing number of tech and other major companies that are entering into long-term "power purchase" agreements (PPAs) with wind farms to ensure a steady stream of power, at a fixed cost, over a period as long as several decades. Most recently, last month Yahoo signed such a deal for wind power in the Great Plains with OwnEnergy, a wind energy developer.
Google -- which is already carbon neutral and now trying to power itself with "100 percent renewable energy" -- has the longest history here. It has three PPA deals in the U.S. wind sector (in Iowa, Oklahoma, and Texas), and two more in Sweden. Microsoft, meanwhile, currently has two PPA deals with wind installments located near its data centers in Texas and Illinois. The agreements provide 285 megawatts of power to help drive both Bing searches and also its other online platforms, according to Brian Janous, the company's director of energy strategy.
What these deals have in common is that they involve purchasing clean energy in close proximity to the power hungry data centers that these companies operate -- data centers that in turn drive searches, apps like Gmail and much more. "These are very energy intensive operations that these companies are planning on running for years, and they know they need electricity," says Emily Williams of the American Wind Energy Association.
Submitted on 11/06/14, 10:10 AM | Click Here for the full article: Reuters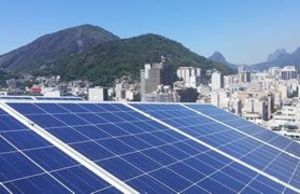 Brazil gives go-ahead to 31 solar parks in push for new energy
Brazil finally entered the solar power sector on Friday, granting contracts for the construction of 31 solar parks as it tries to diversify its sources of generation amid an energy crisis caused by the worst drought in eight decades.
Brazil's energy regulator, Aneel, concluded its first exclusive solar power auction on Friday, clinching 20-year energy supply contracts with companies that will invest 4.14 billion reais ($1.67 billion) and start to feed the national grid in 2017.
The 31 solar parks, the first large-scale solar projects to be constructed in Brazil, will have a combined installed capacity of 1,048 megawatts (MW). Market expectations were for projected total awards of 500 MW.
"This auction is a mark, not only because it signals the entrance of solar power in the Brazilian energy mix, but because it was one of the most competitive to date," said Mauricio Tolmasquim, head of the government's energy research company, EPE.
The auction lasted more than eight hours. The final price for solar power came at around 220 reais ($89) per megawatt-hour, against an initial price of 262 reais ($106), an 18 percent discount.
"This is one of the lowest prices for solar energy in the world," Tolmasquim said.
Submitted on 11/04/14, 01:34 PM | Click Here for the full article: WindPower Monthly
Siemens developing thermal energy storage system
Siemens is developing a system of storing thermal energy in rocks with the aim of using it to harness excess power from wind turbines.
A spokesperson told Windpower Monthly that the project is in the early stages of development and there is no specific timescale for the construction of a prototype of the system.
He said the system would be scaleable for use on site at different projects.
The company was unwilling to reveal specific technical details about the process, but said it relied on established technology.
The storage of heat in rocks has been used as a method of energy retention for some time. But Siemens' system will transform the stored thermal energy back into electricity rather than use it for heating.
This would be done in a "conventional manner" the spokesperson said. The captured heat would be used to create steam to generate electricity through steam turbines.
Featured Hot Product
WS501 series Compact Weather Stations for measuring of air temperature, relative humidity, solar radiation, air pressure, wind direction and wind speed. Relative humidity is measured by means of a capacitive sensor element; a precision NTC measuring element is used to measure air temperature. The world renowned technology of Kipp+Zonen CMP3 is integrated. Ultrasonic sensor technology is used to take wind measurements. Measurement output can be accessed by the following protocolls: UMB-Binary, UMB-ASCII, SDI-12, MODBUS. One external temperature or rain sensor is connectable. The WS503 is a similar sensor available with a tiltable pyranometer for plane of array measurements of solar panels efficiency. Surface temperature and rainfall accessory sensors are also available as add on to the weather station.