Hot Stories
Submitted on 12/18/14, 01:52 PM | Click Here for the full article: Nasdaq
Solar Energy Becoming a Key Component in the Connected Home
Some of the most important innovations happening in energy today are happening far from the national media headlines. But these small changes will go a long way to making power more reliable, competitive, and local, with solar energy playing a central disruptive role that could dominate energy in the next century.
One of those moves happened yesterday, when
SunPower
bought a $20 million stake in Tendril and agreed to license its Energy Services Management Platform software. Here's what the deal means over the next few years.
At its core, Tendril is essentially an energy data company. It collects and analyzes data about consumers' energy usage patterns, primarily learned from partnerships with utilities. SunPower can use this data in its installations to optimize a home's renewable energy consumption, provide stored energy when it's needed, adapt to changing policies for solar, and even improve sales by finding its ideal customers.
You can think of SunPower's capabilities with Tendril as a piece of the home of the future. SunPower will provide local energy production with solar panels, and with energy storage and connected devices SunPower can intelligently plan energy production and consumption based on consumers' desires. If a consumer wants to consume as little energy as possible the system can be set for that, just as it could be set to consume as much of your own energy production, or optimize for cost if there are rewards for sending energy to the grid at peak times. All of this will work in the background, similar to a car's eco mode, but it'll work to make energy more dynamic and controllable for consumers.
Submitted on 12/17/14, 05:24 AM | Click Here for the full article: NY Times
U.S. Imposes Steep Tariffs on Chinese Solar Panels
The Commerce Department began closing a chapter in a protracted trade conflict with China over solar equipment Tuesday, approving a collection of steep tariffs on imports from China and Taiwan.
The decision, intended to close a loophole that had allowed Chinese manufacturers to avoid tariffs imposed in an earlier ruling by using cells — a major module component — made in Taiwan, found that the companies were selling products below the cost of manufacture and that the Chinese companies were benefiting from unfair subsidies from their government.
The department announced anti-dumping duties of 26.71 percent to 78.42 percent on imports of most solar panels made in China, and rates of 11.45 percent to 27.55 percent on imports of solar cells made in Taiwan. In addition, the department announced anti-subsidy duties of 27.64 percent to 49.79 percent for Chinese modules.
"These remedies come just in time to enable the domestic industry to return to conditions of fair trade," said Mukesh Dulani, president of SolarWorld Americas. "The tariffs and scope set the stage for companies to create new jobs and build or expand factories on U.S. soil."
But others in the industry were quick to criticize the ruling.
Submitted on 12/15/14, 05:15 AM | Click Here for the full article: CNBC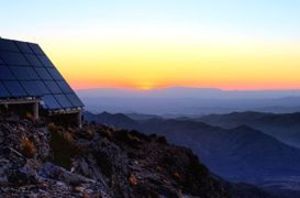 No, cheap oil will not kill solar power
As the price of oil has tumbled to five-year lows, solar stocks have fallen with it: First Solar was trading near $72 in mid-September; now it's around $44. Solar City has around $65; now it's close to $50.
Solar energy investors seem to be running for the doors, fearing that cheap oil will erase demand for alternative energy. But it won't, say industry analysts. Oil and solar serve two different customers.
Oil dominates energy demand in transportation fuels, but solar power customers are primarily of two types: public electric utilities and large corporations. Neither of those use oil to generate electricity, and they are not about to start doing so, say analysts.
Less than 5 percent of the world's electricity comes from oil; most of it comes from coal, natural gas, nuclear and, increasingly, solar power. Public utilities sign long-term agreements with solar providers, sometimes spanning 20 years. Those deals are unaffected by oil price changes, said Jeff Osborne, an analyst with Cowen Group.
Submitted on 12/11/14, 02:16 PM | Click Here for the full article: YALE Environment 360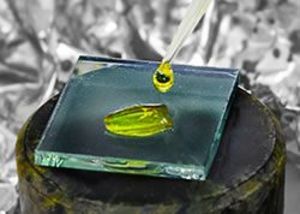 Will New Technologies Give Critical Boost to Solar Power?
Today, despite recent progress, solar power accounts for about one percent of the world's energy mix. Yet the International Energy Agency (IEA) says that solar energy, most of it generated by decentralized "rooftop" photovoltaic systems, could well become the world's single biggest source of electricity by mid-century.
So how do we get from here to there?
The answer, according to scientists and engineers, lies in a new generation of super-efficient, low-cost sunlight harvesters that take up where the recent flood of cheap silicon panels leaves off. New designs and novel solar materials have recently been setting new efficiency records seemingly every week. Although research and development of solar power still falls far short of where scientists and engineers say it needs to be, innovators are making steady progress in creating a new generation of materials that can harvest the sun's energy far more efficiently than traditional silicon photovoltaic cells.
Among the most promising technologies are multi-junction cells with layers of light-harvesters that each gather energy from a separate slice of the solar spectrum, super-efficient semiconductor materials like perovskite and gallium-arsenide, and cells made with tiny but powerful solar-absorbing "quantum dots." Technical hurdles, such as making new materials able to withstand the elements, remain. Nonetheless, researchers say, efforts now underway could begin to dramatically increase solar power generation within a decade or two.
Cont'd...
Submitted on 12/09/14, 01:50 PM | Click Here for the full article: AltEnergyMag Newspage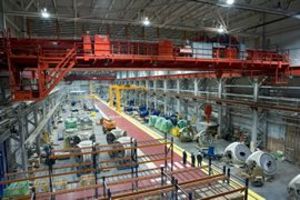 Global Wind Turbine Manufacturing Capacity Has Far Surpassed Demand
During the past 2 years, more flexible sourcing strategies across the wind power supply chain have resulted in cost reductions, enabling greater geographic market access while reducing risk and ensuring profitability for wind turbine vendors and their partners in the component value chain. Overcapacity, however, persists in most, though not all areas of the supply chain, providing purchasers with more choice, flexibility, and cost control. According to a new report from Navigant Research, while demand in 2014 is projected to be less than 47,000 megawatts (MW), annual turbine manufacturing capacity, according to vendor estimates, is likely to exceed 71,000 megawatts MW.

"Oversupply is allowing wind turbine manufacturers to more easily adjust what components they produce in-house, what is outsourced, and when a blend of both is advantageous for cost, technological, or geographic reasons," says Jesse Broehl, senior research analyst with Navigant Research. "Although many manufacturing facilities are running at less than full capacity, product innovation, lean manufacturing, and outsourcing are resulting in a highly competitive wind industry ready for the challenges of today's and tomorrow's wind markets."

Blades are a particularly strong area of strategic product evolution and sourcing shifts, according to the report. Turbine manufacturers are making major, capital-intensive investment changes in how blades are designed, what materials are used, the manufacturing processes behind them, and what companies they source from.
Submitted on 12/08/14, 05:43 AM | Click Here for the full article: Edmonton Journal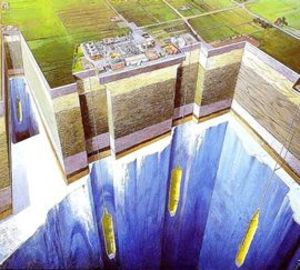 Groundbreaking technology stores wind power in salt caverns
In the Lloydminster area, a Calgary company is ready to carve out large underground salt caverns to store excess wind energy — the first use of the technology in Canada.
Rocky Mountain Power president Jan van Egteren says the storage sites could be ready in five years.
Salt caverns have been used to store natural gas for years, but only two other projects in North America are using them for compressed air that is turned into electricity.
The caverns are carved out by pumping water deep down to dissolve the underground salt layer peculiar to the Lloydminster area.
Excess wind electricity would be used to pump compressed air into caverns about the size of a 60-storey building. The salt walls allow very little to escape. Then, when the wind dies, the compressed air is released and used to turn a generator to make electricity.
The cavern could store enough compressed air to provide electricity for five days to a city the size of Red Deer, says van Egteren.
"It could really help stabilize the grid by taking off power when the wind is really blowing."
Submitted on 12/04/14, 06:13 AM | Click Here for the full article: WindPower Monthly
House of Representatives approves PTC extension
UNITED STATES: The US House of Representatives has approved a one-year extension to the production tax credit (PTC).
The extension will allow US projects that began construction activities in 2014 to apply for the credit. It gives producers of wind power a $0.023/kWh incentive.
The Senate will now need to approve the bill before it becomes law. The Senate vote is expected to take place in the coming days as both Houses are expected to adjourn for the Christmas break next week.
Many in the industry had called for a two-year extension to the credit, which now would expire at the end of 2014.
The Senate Finance Committee approved a two-year extension to the PTC in April, as part of a package of tax measures.
The American Wind Energy Association (AWEA) said the extension creates uncertainty in the US sector. AWEA also warned of a dramatic slowdown to the industry, similar to 2013 when the PTC previously expired, resulting in a 92% drop in installations.
Submitted on 12/02/14, 01:58 PM | Click Here for the full article: SolarLove
Largest Solar Plant In The World Is Now Operating
Did you hear about the largest solar power plant in the world and how it is now producing electricity? Did it make the nightly broadcast news?
Probably not, but Solyndra was all over the news media for a while. There's a blatant lack of coverage for solar success stories, so it wouldn't be surprising if most people aren't hearing about them. California's Topaz project is the largest solar power plant in the world with a 550 MW capacity, and it is now in full operation. It is located in San Luis Obispo County and has 9 million solar panels. Construction began just two years ago.
The electricity produced by the plant will be purchased by Pacific Gas and Electric. The solar panels were manufactured by First Solar and the project was developed by First Solar.
SEIA says about 200 homes in California are powered for each MW of solar power capacity. So, for a 550 MW solar plant, about 110,000 homes could be powered when the sun is shining. First Solar has said this figure could be 160,000 homes in the case of Topaz.
The San Luis Obispo county population is about 276,000. It might turn out that the majority of this population could be powered by a single solar power plant.
Featured Hot Product
Designed and manufactured in the U.S., the AllSun Tracker is a complete grid-tied, dual-axis solar electric system that produces up to 45% more electricity than fixed systems. The tracker uses GPS and wireless technology to follow the sun throughout the day for optimal energy production. It has an industry-leading 10 year warranty and 120 mph wind rating, superior snow shedding, and automatic high wind protection. Its simple, durable design and complete system pallet simplifies costly procurement and installation time. Contact us about becoming a dealer partner.