Hot Stories
Submitted on 05/03/13, 06:37 AM | Click Here for the full article: AltEnergyMag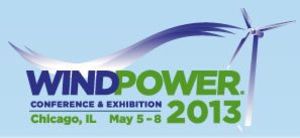 AWEA WINDPOWER 2013 in Chicago
Coming off a record year in 2012, the industry looks forward to build on that momentum at AWEA WINDPOWER 2013 taking place in Chicago, IL from May 5th - 8th.
WINDPOWER 2013 will provide exhibitors the opportunity to showcase their products and services to more than 10,000 individuals from the entire wind energy industry coming from across the U.S. and around the world. Exhibitors include manufacturers, developers, contractors, consultants, suppliers/service companies, electricity generators/utilities, financiers, insurance companies, research institutes, and many more.
WINDPOWER also hosts hosts many impressive features, events, and attractions, providing tons of opportunity to learn about the industry, network, and expand your business.
For all the news and press releases from this years show make sure to stay tuned to AltEnergyMag's special WINDPOWER Newspage.
Submitted on 05/01/13, 03:46 PM | Click Here for the full article: AltEnergyMag Newspage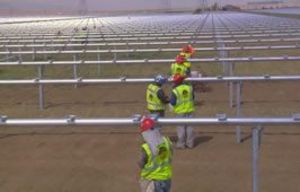 MidAmerican Solar and SunPower Start Major Construction on World's Largest Solar Power Development
MidAmerican Solar and SunPower Corp. (Nasdaq: SPWR) marked the start of major construction at the Antelope Valley Solar Projects – two projects co-located in Kern and Los Angeles counties in California – with a community celebration. The 579-megawatt development will employ approximately 650 workers during a three-year construction period; generate more than $500 million in regional economic impact, the majority of which will be generated during construction; and serve California's growing electricity demand with clean, renewable solar power.
The Antelope Valley Solar Projects make up the world's largest solar power development under construction. When complete, the projects will provide enough energy to power approximately 400,000 average California homes.

"The Antelope Valley Solar Projects are already creating needed jobs and economic opportunity in local communities, while at the same time, providing direct, long-term environmental benefits," said Paul Caudill , president of MidAmerican Solar. "We look forward to continuing our involvement in the Rosamond, Lancaster and Palmdale communities and, as we move forward, in the surrounding areas. The MidAmerican Solar team is committed to working hand-in-hand with the development's neighbors and stakeholders. We also look forward to providing a reliable source of renewable energy to our customer Southern California Edison."
Submitted on 04/30/13, 03:45 PM | Click Here for the full article: Grist.org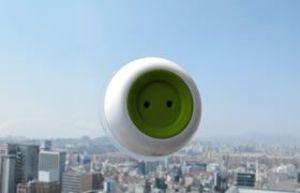 Just stick this portable outlet to your window to start using solar power
It's a portable socket that gets its power from the sun rather than the grid. You plug into a window instead of into the wall. It's easy.
That was the whole point, according to the designers, Kyohu Song and Boa Oh: "We tried to design a portable socket, so that users can use it intuitively without special training," they write.
It is really simple. The portable socket attaches to a window like a leech to human skin. On its underside, it has solar panels:
The solar panels suck energy from the sun. The charger converts that energy into electricity. You plug in to the charger.
Even better, the charger stores that energy. After five to eight hours of charging, the socket provides 10 hours of use. You can pop it off the window, stick it in your bag, and use it to charge up your phone with solar energy, even if you're sitting in a dark room.
Submitted on 04/29/13, 06:10 AM | Click Here for the full article: UPI.com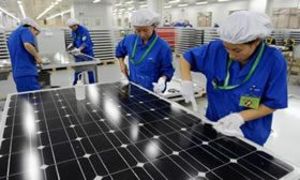 China investigated for EU solar panel activity
China is accused of selling solar panel components to European consumers at prices below fair market value, the European Commission said.
The commission announced it opened an anti-subsidy investigation following a complaint from solar association EU ProSun Glass, which said solar glass from China is subsidized and then sold in the European Union at less than market prices.
The solar glass market in the European Union is valued at about $260 million.
The commission has launched at least two investigations into alleged dumping of solar panel components like solar glass sold in the European Union by Chinese manufacturers. The European Commission said the latest investigation is its own distinct investigation.
The investigation is expected to take more than a year, "although under trade defense rules the EU could impose provisional anti-subsidy duties within nine months if it considers these necessary," the commission said.
Submitted on 04/25/13, 03:20 PM | Click Here for the full article: AWEA via AltEnergyMag Newspage
American Wind Energy Association names Tom Kiernan CEO
The announcement was made by the Chair of AWEA's Board of Directors, Tom Carnahan. "Bringing Tom Kiernan aboard as CEO represents a huge win for AWEA and another step forward in our efforts to elevate wind energy's role as a critical national resource," said Carnahan.

"Tom brings the right combination of bipartisan, practical experience at the national and state levels as well as in small, rural communities where wind energy is most often developed. His respected management style and significant executive abilities, combined with his skills as a communicator, will ensure that AWEA's voice and potential are leveraged not only in Washington but, even more importantly, in the communities in which our members operate," Carnahan said.

Kiernan commented, "I am honored and excited to take on this role at such a critical time in our nation's history. With wind energy building over 40 percent of new electrical generation in the U.S. last year, the massive public support for more renewable energy, and the recent extension of the Production Tax Credit (PTC) by Congress and the President, we have a unique opportunity to work together to make wind energy a more integral part of our national energy portfolio."
Submitted on 04/22/13, 07:08 AM | Click Here for the full article: CNN Money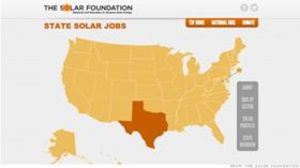 Solar jobs outnumber ranchers in Texas, actors in California
There are more solar energy workers in Texas than there are ranchers. In California, they outnumber actors, and nationwide, America has more solar workers than coal miners.
Those stats come from solar research group The Solar Foundation, which rolled out a map last week showing which states have the most solar jobs. Unsurprisingly, sunny states like California and Arizona are near the top of the list. But some Northern states like New Jersey and Michigan -- not known for their splendid weather -- also show a high number of solar jobs.
What those states lack in climate they make up for in high electricity prices and favorable tax and regulatory policies, which attracts solar developers, said Andrea Luecke, executive director of The Solar Foundation.
Solar supporters are going on the offensive about their field's jobs angle. The industry receives considerable government support, and talking about its employment advantages broadens the conversation beyond global warming.
Submitted on 04/22/13, 06:00 AM | Click Here for the full article: Reuters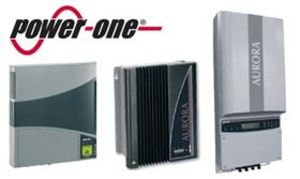 ABB bets on solar power with $1 billion takeover
Swiss industrial group ABB (ABBN.VX) is to buy U.S. solar energy company Power-One Inc (PWER.O) for about $1 billion, betting that growth in emerging markets will revive a sector ravaged by overcapacity and weakening demand in recession-hit Europe.
The world's biggest supplier of industrial motors and power grids said on Monday it had agreed to pay $6.35 per share in cash for Power-One, the second-largest maker of solar inverters that allow solar power to be fed into grids.
The offer price is 57 percent above Power-One's closing price on Friday, boosted by $266 million in net cash held by debt-free Power-One. Stripping out its cash pile, Power-One's enterprise value stands at $762 million, valuing the bid at a more modest 6.4 times 2012 core earnings.
Submitted on 04/18/13, 02:29 PM | Click Here for the full article: Scientific American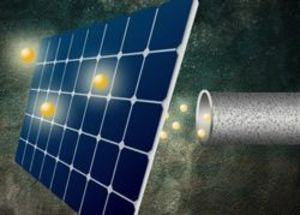 The Solar Cell That Turns 1 Photon into 2 Electrons
Solar cells are picky. If an incoming photon has too little energy, the cell won't absorb it. If a photon has too much, the excess is wasted as heat. No matter what, a silicon solar cell can never generate more than one electron from a single photon. Such harsh quantum realities severely limit the conversion efficiency of photovoltaic cells, and scientists have spent decades looking for work-arounds.
Now, researchers at the Massachusetts Institute of Technology's Center for Excitonics have published a compelling case that the key to greater solar efficiency might be an organic dye called pentacene. In today's issue of Science Daniel Congreve, Jiye Lee, Nicholas Thompson, Marc Baldo and six others show that a photovoltaic cell based on pentacene can generate two electrons from a single photon—more electricity from the same amount of sun. Scientists have suspected for some time that this might work; today's paper is proof of concept.
The key is a phenomenon called singlet-exciton fission, in which an arriving photon generates two "excitons" (excited states) that can be made to yield two electrons. Previous researchers had accomplished similar tricks using quantum dots (tiny pieces of matter that behave like atoms) and deep-ultraviolet light. "What we showed here," Baldo says, in addition to using visible light, "is that [this process] works very, very effectively in organic materials." Full Article:
Featured Hot Product
The Rayport AET-430 is the first and only Stainless Steel PV roof mounting system available in the US and Canada. The Rayport is wind-tunnel tested to 120mph and has provisions for direct mount to the roof. Integrated grounding clips and fasteners, along with only 3 part numbers to order contribute to industry-leading assembly times. Rayport fits most framed PV panels along with many frameless panels. Panels are aligned in landscape at a 10 degree tilt and also include EPDM rubber feet under each tray.