Alternative Energy Articles from the Current eMagazine
New Map Shows Solar Jobs Still Growing Faster Than the Economy
05/16/13, Chris Meehan, SolarReviews
Thanks to The Solar Foundation (TSF), individuals can now learn more about the solar industry in their backyard, their neighboring states and across the country. On April 18, TSF introduced a new interactive map that showcases the nearly 120,000 jobs in America's booming solar industry in 2012. This is the first time that the public can easily access the data on a state-by-state basis, and explore what parts of the solar industry are biggest—including manufacturing, installing, sales, project development and associated jobs.
Wind Industry in the USA
05/16/13, Jukka-Pekka Mäkinen, The Switch
The debate of the PTC just took too long and put the players to uncertainty. Installations were pushed in 2012 to record level of almost 13 GW. This year will be a big dip to estimated 4 GW or so and midterm the installations should level on 7 GW level.
Case Study: Thomonde Hospital In The Central Region of Haiti
05/16/13, Contributed by, Trojan Battery Company
The Thomonde battery bank was designed for 40 percent depth of discharge and only one day of autonomy due to the large loads of some of the medical equipment and the availability of the diesel generator.
Making the Switch: From Fixed to Solar Tracker
05/16/13, Rich Nicol, AllEarth Renewables
I compared the cost per watt to install a standard pole mount, such as a DPW, and found it cost the same as putting up a standard tracker. And of course by tracking you get the additional power.
Interview with Sophie Parker of The Nature Conservancy
05/16/13, Sophie Parker, The Nature Conservancy
In areas of the Mojave that are ecologically intact, renewable energy development poses a major problem for plants, animals, and other species. Some major issues include: habitat destruction and fragmentation, water use, and bird mortality.
Alternative Energy Stories of the Day
Submitted on: 05/20/13, 05:59 AM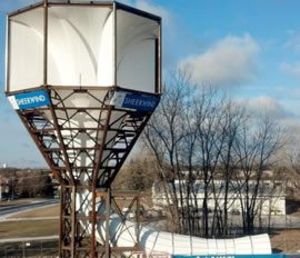 The wind is faster at higher altitudes and wind power is directly proportional to wind velocity cubed. But mounting a turbine up high makes it more expensive to install and maintain, and requires a stronger tower to support such a top-heavy structure. Engineers at SheerWind have a solution: "scoop" the air from up high and bring it down low to drive a ground-level turbine. Oh, and while they're at it, how about amplifying the wind speed too?
SheerWind coined the term INVELOX - INcreasing the VELOcity of wind - to describe its innovative design. Using a giant omni-directional funnel whose mouths are mounted at the top of a tower, INVELOX brings the wind down to ground level and sends it out through a narrow neck, which increases the wind speed, much like putting your thumb over the end of a garden hose and leaving a tiny opening will increase the water velocity. This makes the turbine smaller, decreasing its cost. And because the turbine is on the ground, routine maintenance doesn't require climbing a tall tower. Funnel mouths facing all directions eliminates the need for the turbine to rotate towards the wind, resulting in fewer moving parts, less complexity, and increased reliability.
Since traditional turbines have relatively high start-up speeds (8 MPH or 3.6 m/s is typical), they can't generate electricity at lower speeds. Because the INVELOX design increases the speed of the wind before it reaches the turbine, it allows the system to generate power at wind speeds as low as 2 MPH (0.9 m/s).
Solar Power Windows Fast Approaching Commercial Production
Submitted on: 05/17/13, 06:46 AM
Commercial production of solar windows, using the patented SolarWindow spray-on solar power coating system, may be just around the corner. A recent announcement from US building integrated photovoltaics (BIPV) developer New Energy Technologies Ltd. (which we've b
SolarCity Thrives in Solar Power Sector
Submitted on: 05/15/13, 06:29 AM
Sun Concept, Ampulse, Evergreen, Solyndra: the long list of defunct solar companies is enough to give pause to anyone trying to enter the business. But at least one company, SolarCity, has been succeeding where so many others have failed. Its secret? Staying away from
EU to Hit China Solar Panel Makers With Anti-Dumping Tariffs
Submitted on: 05/13/13, 05:59 AM
The European Union (EU) is moving ahead with tariffs on imported Chinese solar panels in an effort to protect its own module makers. European Commission (EC) Trade Head Karel De Gucht will recommend the EC impose anti-dumping (AD) charges similar to those im
Patent filing claims solar energy 'breakthrough'
Submitted on: 05/09/13, 06:21 AM
In a U.S. patent application, a little-known Maryland inventor claims a stunning solar energy breakthrough that promises to end the planet's reliance on fossil fuels at a fraction of the current cost – a transformation that also could blunt global war
Today's Alternative Energy Headlines
Battery Seminar: August 13-14, 2013, Detroit (USA) - Early Bird Registration is Now Open !
Submitted on: 05/20/13, 07:39 AM
Join us for an exciting, two-day battery seminar on August 13 & 14, 2013 in Detroit, MI (USA).
The 24th Annual Energy Fair June 21-23, 2013 - Custer, WI
Submitted on: 05/17/13, 10:41 AM
Each year the MREA Energy Fair transforms rural Central Wisconsin into the global hot spot for renewable energy education. The Energy Fair brings over 20,000 people from nearly every state in the U.S. and several countries around the world.
Crucial Bill in Massachusetts Would Guarantee Purchase of All SRECs
Submitted on: 05/17/13, 07:55 AM
Rodman & Rodman, P.C., providers of specialized green energy and clean technology accounting and tax services, explain House Bill No. 2915
Enphase Energy Supports Team USC in 2013 U.S. Department of Energy Solar Decathlon
Submitted on: 05/16/13, 09:02 PM
Students of sustainable design and building to install the Enphase Microinverter System on solar-powered fluxHome
Cornell Dubilier Introduces Type 948D, Capacitors for Large Inverter Systems
Submitted on: 05/16/13, 09:00 PM
Housed in a plastic rectangular package that is nearly a cube with 6.5 inch sides, Cornell Dubilier's Type 948D DC link capacitors offer up to 20% more capacitance in the same size case with lower ESR and higher ripple current ratings than competitive types.
Featured Alternative Energy Product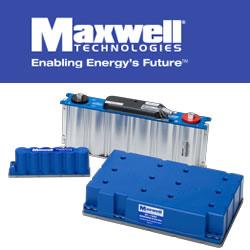 Maxwell Technologies' 16V small cell ultracapacitor module provides energy storage and power delivery in a compact, cost effective module. The modules are specifically engineered to provide cost-effective solutions for 1.5MW and smaller wind turbine pitch control, small UPS systems, telecommunications and other lighter duty industrial electronics applications. The 16V module is based upon the high reliability, 350F radial D-Cell®. In addition to meeting or exceeding demanding industrial application requirements for both watt-hours of energy storage and watts of power delivery per kilogram, all of these products will perform reliably for more than five hundred-thousand discharge-recharge cycles.
Featured Alternative Energy Company
(, , Italy)
ETA-Florence develops projects under the programs of the European Commission, working with partners and international institutions, creating and promoting international cooperation initiatives.
Upcoming Alternative Energy Events and Conferences