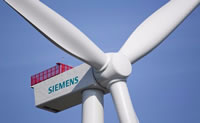 Jocelyn Timperley for BusinessGreen: A new energy storage technology currently under development by Siemens is set to see excess wind energy converted to heat rocks, allowing the energy to be stored using an insulated cover.
The system consists of a fan that uses an electrically-heated air flow to heat the stones to high temperatures, with the thermal energy then converted back to electricity when needed using a steam turbine.
The simple principle of the set-up promises to deliver a low-cost way of storing energy, Siemens said, with the only limit to the concept being the space required for the rock-filled insulated container. Cont'd...