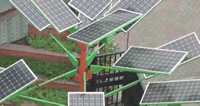 Anjana Pasricha for VOA News: Indian scientists have designed a "solar tree" that they hope will help overcome one of the key challenges the country faces in the generation of solar power.
With photovoltaic panels placed at different levels on branches made of steel, "solar trees" could dramatically reduce the amount of land needed to develop solar parks.
"It takes about four-square meters of space to produce energy which otherwise would have required 400 square meters of space. So almost 100 times the space is saved, which as you know is very valuable," said Daljit Singh Bedi, chief scientist at the Council of Scientific and Industrial Research (CSIR) in New Delhi, whose laboratory in Kolkata developed the tree.
A scarce resource in India, acquisition of land to develop roads, factories and other infrastructure is a sensitive issue that has led to frequent and sometimes violent protests from displaced people. Cont'd...