Solar Unlimited is and continues to be "Southern Utahs" most experienced and qualified installer ,dealer and sevice provider of all solar ,wind and other forms of alternative energy.
Solar Unlimited ,of Southern Utah was recently recognized by the "Cedar City Chamber of Commerce ",and honored with the prestigious award of "Most Progressive Business of the Year" for 2004. In the company of some of the most prominent leading businesses and fellow recipients "Solar Unlimited " was recognized for its service , dedication and contribution to the community of Cedar City UT.

Gerald Whipple,President and founder of the corporation , recieved the award before a gathering of appoximately 300 onlookers, at the "Hunter Conference Center" located on the campus of SUU. Mr. Whipple stated after the awards that he was "honored to recieve the award "and that he is commited to "continuing to help educate people about renewable energy and how important it is to preserve our natural resources and protect our fragile enviroment.
Featured Product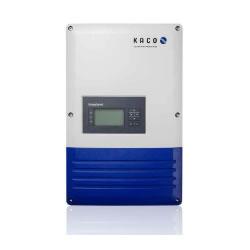 Small size, light weight, great features, best value! With a line-up of 1-phase transformerless units, KACO new energy will be inaugurating the new "blueplanet" solar PV inverter series. Newly designed and constructed from scratch, the blueplanet TL1 fulfil the highest requirements for optimum use in residential solar power plants.