RenewableEnergyStocks.com Announces New Featured Renewable Energy Company: XSUNX, Inc, An Innovative Solar Technology Developer
RenewableEnergyStocks.com Announces New Featured Renewable Energy Company: XSUNX, Inc, An Innovative Solar Technology Developer
POINT ROBERTS, Wash., April 12, 2005 - www.InvestorIdeas.com is pleased to announce that XsunX, Inc, (OTCBB: XSNX), a Solar Electric Vision Glass developer is currently profiled as a Featured Company on www.RenewableEnergyStocks.com (RES). RES is a global investor and industry news portal offering research resources, news, exclusive articles, a directory and links to public companies within the renewable energy sector. RenewableEnergyStocks.com is pleased to provide investors with exclusive reports and news about the quickly changing and evolving Renewable Energy sector, and the opportunities that exist for companies in this sector, and consequently, for stock market investors.
XsunX, Inc (OTCBB: XSNX) is the developer of Power Glass' - an innovative solar technology that allows glass windows to produce electricity from the power of the sun. This proprietary process is intended to allow manufacturers to apply a transparent and photovoltaic glazing to glass and other transparent substrates. When XsunX glazing is exposed to light, the light energy is converted into electrical energy for use as a power source. XsunX believes that its solar electric glazing technology has a number of major market opportunities in the worldwide architectural glass, optical film and plastics markets.
Corporate Profile, News and Info: http://www.renewableenergystocks.com/CO/XSNX/Default.asp
XSUNX, Inc compensates InvestorIdeas as disclosed below)
RenewableEnergyStocks.com offers investors research, news and company links within the renewable energy sector. To complement this site, we also feature www.FuelCellCarNews.com to meet the interest in fuel cell technology and the participating public and private companies. InvestorIdeas sites do not give specific recommendations, and encourage investors to complete due diligence. Our current list of Renewable/Alternative Energy Stocks is available here: www.RenewableEnergyStocks.com/Companies/RenewableEnergy/Stock_List.asp
Live industry news feed provided by: www.alternate-energy.net/.
InvestorIdeas.com's free "Investor Incite" Newsletter consists of company and industry updates, investment research and developing trends in key areas such as Homeland Security, Renewable Energy, Nanotechnology and more.
To sign up click here: www.InvestorIdeas.com/Resources/Newsletter.asp
Disclaimer: ECON Investor Relations Inc is the owner of the domain www.RenewableEnergyStocks.com. Our site does not make recommendations, but offers a unique information portal to investors to research news, articles, and recent research. Nothing on our sites should be construed as an offer or solicitation to buy or sell any specific products or securities. All investments involve risk. Although we attempt to research thoroughly, we offer no guarantees as to the accuracy of any information presented. We encourage all investors to use our sites only as a resource to further their own research. The site is currently compensated for by its "featured companies." XSUNX Inc. (OTCBB: XSNX) Two thousand dollars per month and two thousand equivalent in one forty-four shares
For more information contact:
Dawn Van Zant / Trevor Ruehs
Toll free: 800-665-0411
Email: dvanzant@investorideas.com or truehs@investorideas.com
Web Site: www.InvestorIdeas.com
Featured Product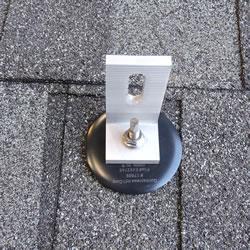 The QuickBOLT is THE affordable mounting solution for Asphalt Shingle Roofs. Not only is it the lowest cost system in the industry, it also maintains the fastest install time of any mounting system available. Unlike other Asphalt Mounting systems that require bulky flashing, the QuickBOLT uses a small EPDM washer and is 100% waterproof! Part # QBKit2