The fourth Hydrogen Expo US opens its doors
Not just visions but real products will be presented at the upcoming Hydrogen Expo US, which is held as part of the National Hydrogen Association's Annual Hydrogen Conference 2006 for the fourth time. This year, Long Beach, California is the venue for the most important gathering of industry professionals and buyers for this growing market. With a global reputation not only because of Governor Arnold Schwarzenegger's blueprint for a "Hydrogen Highway", the golden state has been a pioneer in hydrogen and fuel cell projects and provides business opportunities for domestic and international suppliers alike. Hydrogen Expo US opens its doors from March 12 to 14 at the Long Beach Convention Center. The NHA Annual Hydrogen Conference 2006 runs from March 12 to 16.

92 exhibitors signed up for Hydrogen Expo US 2006, that means 25 companies or 40% more compared to last year. "This increase underlines the importance of the event", says Ines Freesen, Managing Director of expo organizer Freesen & Partner GmbH. "The United States currently provide the most dynamic market for hydrogen and fuel cell technologies, and Hydrogen Expo US is recognized as the leading showcase for this growth sector, where. Here, the exhibitors generate real business." More than 2,000 attendees from around the world are expected.
Hydrogen infrastructure and clean energy projects
Among the exhibiting companies is Linde AG, who present their vision for a hydrogen society. The company is able to cover the whole supply chain with its know how, from hydrogen production as a gaseous or liquid fuel to its storage and distribution at the filling station.
BP plc, whose abbreviation stands for "Beyond Petroleum" these days, will also be exhibiting at Hydrogen Expo US. Their latest project is the construction of a hydrogen fueled power plant in California. Together with a local utilities company, BP generates clean electricity that could cover the demand of more than 300,000 households.
Safety through precision products
To provide for the safe handling of hydrogen-fueled systems is MST Technology GmbH's business. The company manufactures sensors to leak-test fuel cells. "Today, the role of hydrogen sensors in a fuel cell environment can be compared with what an airbag is to a car driver", comments Dr. Elisabeth Wasserle, Product Manager at MST.
Also focused on safety are the high-precision products of GSR Ventiltechnik GmbH & Co. KG. The magnetisable ball valve that they are showing at Hydrogen Expo US can control hydrogen delivery to a system in smallest amounts with a response time of milliseconds.
Compressing and storing hydrogen
Compression of the energy carrier for storage is what exhibitors Andreas Hofer Hochdrucktechnik GmbH and Pdc Machines Inc. work on. Hofer manufactures a piston compressor, which is certified according to European and US standards. The company delivers single aggregates as well as turn-key solutions complete with all necessary valves and instruments.
Under the tagline "Compressing for a Cleaner Future" Pdc presents a diaphragm compressor, which several of the Hydrogen Expo US exhibitors already use. Typical applications include hydrogen filling stations and hydrogen-fueled back-up power for telecommunications and power plants.
Lincoln Composites Inc. showcases a very light, high-durability tank for hydrogen storage. The vessel has been designed to store the gaseous fuel and according to the company works with extremely low permeation.
Free seminar program, Public Day
Offering a free seminar program, Hydrogen Expo US invites all attendees to hear the latest about projects and products on March 13 and 14 inside the exhibit hall. Additionally, the "Ride & Drive" provides the opportunity to take a spin in a hydrogen vehicle in the outdoor area.
For the first time, the public will have the chance to learn more about the innovative energy and propulsion technology. The "Public Day" on March 14 gives free admission to everyone interested.
Show hours:
Sunday, March 12 - 7.00pm to 9.00pm, Welcome Reception for exhibitors & conference delegates
Monday, March 13 - 7.00am to 5.00 pm, open to trade visitors
Tuesday, March 14 - 10.00am to 4.00pm, "Public Day", free admission
10.00am to 8.30pm, open to trade visitors, including NHA Industry Reception
Exhibitor list, free seminar program, travel info: http://www.hydrogenexpo.com
Conference program, side events: http://www.hydrogenconference.org
Hydrogen Expo US press contact:
Ines Freesen
Freesen & Partner GmbH
Tel.: 02802-948484-0
Fax: 02802-948484-3
email: info@hydrogenexpo.com
Featured Product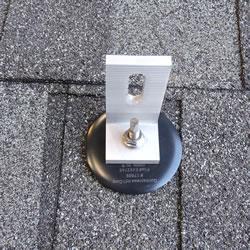 The QuickBOLT is THE affordable mounting solution for Asphalt Shingle Roofs. Not only is it the lowest cost system in the industry, it also maintains the fastest install time of any mounting system available. Unlike other Asphalt Mounting systems that require bulky flashing, the QuickBOLT uses a small EPDM washer and is 100% waterproof! Part # 17672