Mentors to Coach Teams Entered in the Ignite Clean Energy Competition in Pursuit of Lucrative Cash Prizes and Business Services
Cambridge, MA - March 7, 2007 - The Ignite Clean Energy (ICE) Competition, a yearly contest that helps entrepreneurs refine and communicate clean energy business plans to investors, has announced a search for mentors to counsel entrants for this year's competition.

The ICE competition is a three month long competition in which teams of entrepreneurs (students and professionals) interested in starting new clean energy companies are paired with industry mentors to gain knowledge and skills needed to attract investors and succeed in the business world. The combined prizes for the top five finalists total $150,000 in cash and services, including $47,500 in public relations services and office space for the grand prize winner.
Mentors include, but are not limited to, investors, attorneys, professors, consultants and experienced business executives who are established in their field and willing to donate time to help both the competitors and the competition excel through training and coaching.
Mentors must have relevant experience that includes one or more of the following:
• Having been on the founding team of one or more startup companies
• Having invested in or made the decision to invest in a startup company
• Direct experience working as a consultant or as an employee with clean energy companies
• Functional expertise in areas relevant to success in the competition, such as presentation skills and business plan writing.
Applications for mentors are due by end of business Monday, March 12, 2007. For more information or to apply to be a mentor, please visit www.ignitecleanenergy.com. Applications are being accepted now.
###
About Ignite Clean Energy
Sponsored by the MIT Enterprise Forum Energy Special Interest Group, the Ignite Clean Energy (ICE) competition began in 2004 to stimulate the growing clean energy industry in New England. It provides start-up clean energy companies and entrepreneurs with the opportunities and resources to develop business skills, network with industry professionals and the chance to attract potential investors. The winners will be awarded a total of $150,000 in cash and services.
For More Information, Please Contact:
Linda Plano Jessica Devaney
Ignite Clean Energy Bell Pottinger USA
617-287-7014 617-226-7187
lplano@umassp.edu jdevaney@bellpottingerusa.com
Featured Product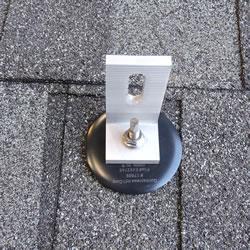 The QuickBOLT is THE affordable mounting solution for Asphalt Shingle Roofs. Not only is it the lowest cost system in the industry, it also maintains the fastest install time of any mounting system available. Unlike other Asphalt Mounting systems that require bulky flashing, the QuickBOLT uses a small EPDM washer and is 100% waterproof! Part # QBKit2