The PVI-Central family employs subracks in a scalable modular architecture that facilitates application-optimized solar inverter solutions from 50kW to 300kW.
Camarillo, CA - September 24, 2007 - Power-One, Inc. (Nasdaq: PWER) today announced the introduction of the 100kW PVI-100 Series, the first products in the Aurora® PVI-Central Family of commercial photovoltaic inverters. The PVI-Central family employs subracks in a scalable modular architecture that facilitates application-optimized solutions from 50kW to 300kW.

These grid-tie systems are designed for large solar applications such as apartment buildings and industrial facilities. This flexible design utilizes 50kW and 100kW subracks. The 100kW subracks can be configured to either provide two functionally-independent 50kW outputs, or a single 100kW power output.
High conversion efficiencies (up to 96.9% Euro), combined with high-speed MPPT (Max Power Point Tracking) channels, optimize energy harvesting across a wide array of operating conditions.
Bill Yeates, Power-One's CEO, commented, "These commercial-grade inverters feature scalability in a common-enclosure package that is delivered pre-configured and pre-tested. In addition to reducing on-site installation wiring and testing, this industry-leading technology provides cost-effective solutions with smaller footprints and increased reliability.
Mr. Yeates continued, "The development of the PVI-100 was in response to the rapidly-growing global demand for environmentally-friendly power sources. These higher-wattage commercial-grade inverters are excellent additions to our Aurora® family and further demonstrate Power-One's commitment to introduce industry-leading products addressing the renewable energy market in support of improving the global environment."
Applications flexibility is further enhanced by the availability of models with and without isolation transformers (self contained within the inverter rack) providing 208 or 480VAC outputs. A broad range of communications options include: dial up, ISDN, Ethernet, DSL, GSM, and the optional Aurora® Easy Communication System.
Additional product features include: compact 49" wide x 62" high x 32" deep (1250 x 1570 x 810mm) NEMA-2 rated enclosures, Digital Signal Processor (DSP) based controls that support self diagnostics, LCD real-time display of operating status, and simplified maintenance via unobstructed front access to modules and power boards. PVI-100 products are backed by a five-year warranty that is optionally extendable to twenty years.
Pricing and availability is configuration dependent; please contact Power-One for details.
Featured Product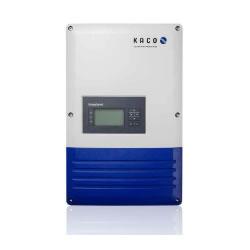 Small size, light weight, great features, best value! With a line-up of 1-phase transformerless units, KACO new energy will be inaugurating the new "blueplanet" solar PV inverter series. Newly designed and constructed from scratch, the blueplanet TL1 fulfil the highest requirements for optimum use in residential solar power plants.