Space Energy Corporation signed contract with Hitachi Ltd., in regard to the selling of Hitachi's bi-facial solar cell and module manufacturing facility and transfer of technology know-how to Space Energy
Space Energy Corporation (SEC), Japan, has signed a contract with Hitachi, Ltd., whereby Hitachi sells its bi-facial photovoltaic solar cell and module manufacturing facility to SEC, and provides related technology support to SEC.

The agreement consists of the sale of Hitachi's facilities and transfer of its technology know-how to SEC. With this technological support, SEC, one of major manufacturers of mono-crystal wafers in Japan, will diversify their business into the cell and module manufacturing.
Production is targeted to commence from September 2008 with 3.5MW production volume, and is expected to increase to commercial scale rapidly.
Only a handful companies have been manufacturing bi-facial solar products in the world up till now, but the market is expected to grow with the expansion in its application variety. Many inquiries have been received on the possibility of installing bi-facial solar products in the desert and snowy regions, and also their unique application such as soundproof wall on highways, advertising billboards, etc.
Featured Product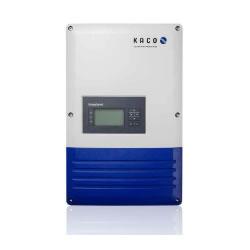 Small size, light weight, great features, best value! With a line-up of 1-phase transformerless units, KACO new energy will be inaugurating the new "blueplanet" solar PV inverter series. Newly designed and constructed from scratch, the blueplanet TL1 fulfil the highest requirements for optimum use in residential solar power plants.