PV POWER EXPO 2009 May 6 - 8, 2009 Shanghai New International Expo Center (No. 2345 Longyang Road, Pudong District, Shanghai, China) The Most Authoritative Platform for International Cooperation and Trade in PV Industry
Shanghai New Energy Industry Association decides to hold SNEC 3rd (2009) International Photovoltaic Power Generation Expo ("SNEC (2009) PV Power Expo") ceremoniously in Shanghai New International Expo Center (SNIEC) from May 6th to 8th, 2009, upon the success of SNEC 2007 and SNEC 2008.

Schedule
Move-in Dates: May 3, 2009 (13:00)
May 4-5, 2009 (8:30-16:30)
Show Dates: May 6-8, 2009 (8:30-16:30)
Move-out Dates: May 8, 2009 (15:00-17:00)
Exhibits Category:
● Production Equipment
● Solar Cells/Panels (PV Modules):
● Components
● Solar MaterialsCategory Description:
● Solar Products● PV Projects and System Integrators
● Solar-thermal products
Exhibition Rates:
● Standard Booth (3mx3m)
Price: USD2, 800/ booth; USD2, 300/ booth (for SNEIA/ EPIA members)
Basic Facilities: one square table, two folding chairs, one wastepaper basket, two name card registers, one 220V/500W/10A power supply socket, two spotlights, one headboard and carpet inside of the booth
● Indoor Raw Space (>36m2, including 36 m2)
Price: USD280/ m2, USD230/ m2 (for SNEIA/EPIA members)
Contact Us:
Contact Person: Andy Chen
Mobile Phone: +86-13816452416
E-mail:andychen861017@gmail.com MSN: chendavid886@hotmail.com
Tel: +86-21-64281729-8014
Fax: +86-21-64642653
Featured Product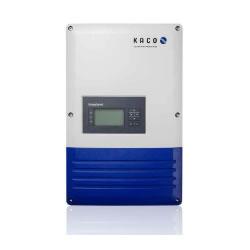 Small size, light weight, great features, best value! With a line-up of 1-phase transformerless units, KACO new energy will be inaugurating the new "blueplanet" solar PV inverter series. Newly designed and constructed from scratch, the blueplanet TL1 fulfil the highest requirements for optimum use in residential solar power plants.