3rd International User Group Conference for Biomass Gasification as part of the CEP CLEAN ENERGY POWER 2008 in Stuttgart
3rd International User Group Conference for Biomass Gasification

as part of the CEP CLEAN ENERGY POWER 2008 in Stuttgart
Researchers, developers and constructors of systems for the gasification of biomass for Trigeneration with a small to midsize capacity have made impressive gains in the market in several European countries in the last two years. The first systems are already operating for their customers and have to prove themselves in the competitive market. The good economic conditions in Germany, due largely to the Renewable Energy Law (EEG), are drawing increasing numbers of foreign suppliers. The first partnerships with German companies have already been established in several different forms. On the one hand, there is a strong demand for an exchange of information and development of know-how. On the other hand, there is also need for investors to help further optimize the technology.
To accelerate a breakthrough in the market, REECO GmbH in Reutlingen, Germany in cooperation with the Society for the Promotion of Renewable Energies (FEE e.V.) is presenting for the third time the International Conference on the Use and Operation of Biomass Gasification Systems. It is connected with the International Trade Fair and Conference for Renewable Energy and Passive House CEP CLEAN ENERGY POWER from January 29th-31st, 2009 at the New Stuttgart Trade Fair Center.
The event will give technology and market pioneers a platform for public relations and media presentation to help them break into the European market. In addition, innovative operators will have the opportunity to share their experiences. Potential investors can convince themselves that the time to act is now, and administrative authorities will be motivated to improve their licensing practices.
Due to the current situation on the energy market and the state of development of biomass gasification technology, the event is aimed at the needs of local utility companies, industries and rural communities and focuses on systems ranging from about 500 kW to 5 MW.
The conference will begin with an overview of the World's energy situation and its effects on biomass gasification for energy supply by polygene ration as well as the state of gasification in the European Union and Germany. Following this introduction, systems from all over Europe will be presented. The themes in focus range from the concepts of the systems, application possibilities and their introduction to the market. In conclusion, a summary of the state of thermo chemical biomass gasification and the perspectives of this technology will be presented. Renowned lecturers from the areas of research and development as well as numerous practical reports by notable system developers and constructors of biomass systems will guarantee a high-profile conference. The official conference languages are German and English.
At the same time, further conferences will be informing visitors on topics such as financing Bioenergy, energy consultation, Stirling engines and heat pumps at the CEP CLEAN ENERGY POWER 2009. The accompanying exhibition will give an extensive overview of renewable energy and passive houses.
Featured Product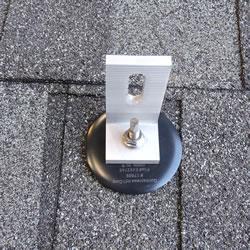 The QuickBOLT is THE affordable mounting solution for Asphalt Shingle Roofs. Not only is it the lowest cost system in the industry, it also maintains the fastest install time of any mounting system available. Unlike other Asphalt Mounting systems that require bulky flashing, the QuickBOLT uses a small EPDM washer and is 100% waterproof! Part # QBKit2