Completely revised and updated edition of the "bible of electric car books" illustrates how to convert a gas-guzzler to a clean-running electric powered vehicle or build one from scratch!
For Immediate Release Press Contact: Bettina Faltermeier

212.904.3604
bettina_faltermeier@mcgraw-hill.com
BUILD YOUR OWN ELECTRIC VEHICLE
Completely revised and updated edition of the "bible of electric car books" illustrates how to convert a gas-guzzler to a clean-running electric powered vehicle or build one from scratch!
It's no wonder that the electric vehicle (EV) movement has broadened to multiple levels of public debate. EVs solve many problems: they have zero tailpipe emissions and, costing only pennies to charge, bypass today's high energy prices. They can get charged on electricity from solar, wind, and any other renewable resource in addition to getting electricity from power plants. Plus, electric cars help develop the economy - electric transportation can be a growing industry that will create new jobs.
Build Your Own Electric Vehicle, Second Edition (McGraw-Hill; October 2008; Original paperback: $29.95) by Seth Leitman and Bob Brant illustrates the process of building an EV from scratch for as much or even less money than purchasing a traditional car, as well as transforming an internal combustion engine vehicle to electric. Photographs, descriptions of each component - motor, battery, controller, charger, and chassis - and step-by-step instructions on how to put them all together, as well as a list of suppliers for necessary parts, make it easy to build a working vehicle.
The authors' intent was to create a useful guide to get people involved in the EV movement; to encourage them to contact additional sources in their own "try-before-do/buy" quest; to point readers in the direction of others who have already done it (i.e., electric vehicle associations, consultants, builders, suppliers, and integrators); to familiarize them with the electric vehicle components; and finally, to go through the process of actually building or converting their own vehicle.
-more-
"I hope you have as much fun reading about the issues, sources, and building process as I have had writing about them," says Seth Leitman. "A timely point is the price of oil and its relation to the entire book. When Bob Brant first wrote this book, he determined that $100 for a barrel of oil was the worst-case scenario. As I finished writing this book, oil was trading at $142 a barrel, and at my local gas station the price tag for a gallon of gas was $4.50."
ABOUT THE AUTHORS
Seth Leitman is the Founder of Green Living Guy TM (www.greenlivingguy.com) and is also Managing Member of the ETS Energy Store, LLC, (www.etsenergy.com) which consults companies and consumers on organic, natural, and energy efficient, renewable and sustainable products for business and home use (from energy efficient bulbs to electric vehicle conversion referrals).
Previously, he worked for the New York State Power Authority and the New York State Energy Research and Development Authority, where he helped develop, market, and manage electric and hybrid vehicle programs serving New York State and the New York metropolitan area. In total, he helped to bring over 3,500 alternative fueled vehicles and buses into New York.
Seth is also the consulting editor for an upcoming series of books titled the "Green Guru Guides," which focuses on implementing environmentally friendly technologies and making them work for you.
Bob Brant was the author of the first book, and some might say ahead of his time in his passion to convert to electric. The first edition of this book was published in 1993. While there have obviously been updates and technological advances since that time, many of the concepts in that first book are still in use today.
Bob was involved with NASA projects such as Apollo, Lunar Excursion Module, and the Earth Resources Technology Satellite. He also was with a company that worked on the Lunar Rover. Bob was always fascinated with every electric vehicle breakthrough, was convinced of its personal and environmental benefits, and was curious why stronger steps had not been taken to make electric vehicles a reality. Seth Leitman likes to think of this updated edition as a tribute to Bob and other forward thinkers like him.
BUILD YOUR OWN ELECTRIC VEHICLE by Seth Leitman and Bob Brant
McGraw-Hill; October 2008; Original paperback: $29.95; 360 pages; ISBN-10: 0-07-1543732; ISBN-13: 978-0-07-1543736
# # #
For author interviews, artwork, or excerpt information, please contact:
Bettina Faltermeier, Sr. Publicity Manager, 212-904-3604, bettina_faltermeier@mcgraw-hill.com
Featured Product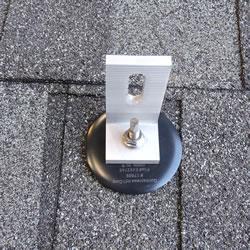 The QuickBOLT is THE affordable mounting solution for Asphalt Shingle Roofs. Not only is it the lowest cost system in the industry, it also maintains the fastest install time of any mounting system available. Unlike other Asphalt Mounting systems that require bulky flashing, the QuickBOLT uses a small EPDM washer and is 100% waterproof! Part # QBKit2