Inauguration of SCHOTT Solar's new flagship manufacturing facility
(Albuquerque, NM) SCHOTT Solar will ceremonially inaugurate its state-of-the-art manufacturing

facility for products used to generate solar power on Monday, May 11, 2009, one year after breaking-
ground on the project's first-phase. The 200,000 square-foot facility represents an initial investment of
over $100 million USD in the Albuquerque region from the global SCHOTT Solar group. SCHOTT has
created 350 jobs at the new facility, which will continue to ramp up production throughout the summer.
This is the first solar manufacturing facility to open after the economic stimulus was enacted in
February. SCHOTT Solar has created 350 green-collar jobs at the new facility, which is the world's
first production site for both utility-scale CSP receivers and PV modules
*Attending press will have access to: tours of the new facility; one-on-one interviews with SCHOTT executives, employees and attending dignitaries; b-roll; and professional photographs of the solar
energy technology employed at the facility.
To RSVP please contact Brian Lynch at (914) 831-2287 or brian.lynch@us.schott.com.
Featured Product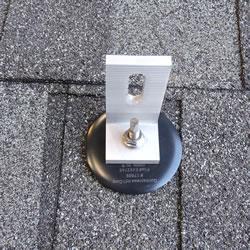 The QuickBOLT is THE affordable mounting solution for Asphalt Shingle Roofs. Not only is it the lowest cost system in the industry, it also maintains the fastest install time of any mounting system available. Unlike other Asphalt Mounting systems that require bulky flashing, the QuickBOLT uses a small EPDM washer and is 100% waterproof! Part # QBKit2