On May 21, the U.S. Department of Energy was involved in the unveiling of the largest rooftop photovoltaic system of its kind in the southeastern United States - on the rooftop of the Orlando Convention Center.
The solar installation at the Orange County Convention Center includes a 1 MW rooftop system and will generate 1,300-megawatt hours of electricity per year.

The installation is a U.S. Department of Energy Solar America Showcase. Solar America Showcases are part of the Department of Energy's solar program strategy to accelerate and advance solar technology and energy adoption and integration. All Solar America Showcase projects receive free Department of Energy technical assistance utilizing experts from the national laboratories, universities, and competitively selected engineering firms. Best practices and "lessons learned" from other solar projects are applied to each Solar America Showcase project, and upon completion, each Solar America Showcase serves as easily replicable models.
Featured Product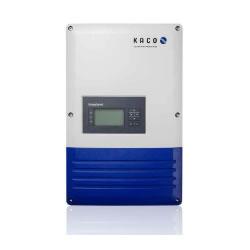 Small size, light weight, great features, best value! With a line-up of 1-phase transformerless units, KACO new energy will be inaugurating the new "blueplanet" solar PV inverter series. Newly designed and constructed from scratch, the blueplanet TL1 fulfil the highest requirements for optimum use in residential solar power plants.