American Superconductor Corporation (NASDAQ: AMSC), a leading energy technologies company, has published a white paper entitled "Superconductor Electricity Pipelines Carrying Renewable Electricity Across the U.S.A. Out of Sight and Out of Harm's Way."
This paper details the benefits of direct current (DC) superconductor cables for long-haul transmission of renewable energy.

A significant challenge facing the U.S. in the near term will be carrying 100's of gigawatts of green power from the country's rural heartlands to urban load centers. Plans for interstate 765 kV overhead power lines requiring 400- to 600-foot-wide rights of way are being considered. Placed underground in existing rights-of-way, Superconductor Electricity Pipelines could carry this same amount of power in a three-foot pipe. Superconductor Electricity Pipelines are much more efficient, cost competitive and, with the ability to leverage existing rights of way, are easier to site.
To request a free copy of the white paper, visit www.amsc.com/powerpipes. To view an animation of the benefits of Superconductor Electricity Pipelines, visit http://www.amsc.com/products/applications/utilities/superconductorpipeline.html.
Company representatives are available to discuss Superconductor Electricity Pipelines with members of the media. Please contact American Superconductor to arrange an interview.
Kim Ciottone
Public Relations Specialist
American Superconductor (AMSC)
P: 978-842-3454
kciottone@amsc.com
www.amsc.com
AMSC (American Superconductor), an energy technologies company
Featured Product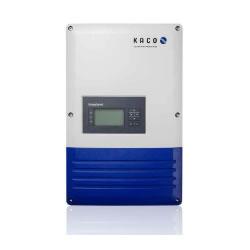 Small size, light weight, great features, best value! With a line-up of 1-phase transformerless units, KACO new energy will be inaugurating the new "blueplanet" solar PV inverter series. Newly designed and constructed from scratch, the blueplanet TL1 fulfil the highest requirements for optimum use in residential solar power plants.