Lufft welcomes Ann Cavanaugh-Pattison as the new US Business Development Director. She brings with her six years of experience in wind. Lufft is introducing its new line of ultrasonic anemometers to the US wind industry this fall.
Lufft precision instruments of Germany plans to introduce its new line of ultrasonic wind sensors and universal measurement bus (UMB) environmental data recording technology to the United States wind industry. Lufft recently welcomed Ann Cavanaugh-Pattison as the Business Development Director for Lufft USA. Pattison joins Lufft from Clipper Windpower, Inc. where she was employed as Customer Service Manager of Project Operations and Maintenance. She brings with her over six years of wind industry experience. Ann will be attending the AWEA workshop on Wind Resource and Project Energy Assessment later this month. Lufft introduced the UMB Wind Sensor line of products globally one year ago and attended Windpower 2009. This is the first time the product will be available for sale in the United States.

Lufft brings 125 years of precision climate monitoring and environmental data collection experience. The Lufft sensors are said to benefit wind assessment results by providing ultra-precise measurement and reducing maintenance costs. The robust VENTUS model is ideal for wind turbine applications as it is available with a 200W heater for use in cold weather climates. All the anemometers have a covered design to protect from ice and snow. For more information send an email to sales@lufftusa.com.
Featured Product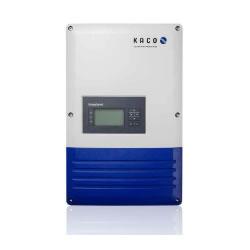 Small size, light weight, great features, best value! With a line-up of 1-phase transformerless units, KACO new energy will be inaugurating the new "blueplanet" solar PV inverter series. Newly designed and constructed from scratch, the blueplanet TL1 fulfil the highest requirements for optimum use in residential solar power plants.