Nominations open until the 15th of October at 20:00 GMT
As part of the 3rd Concentrated Solar Thermal Power Summit in Sevilla (Nov 11 & 12) CSP Today is holding the 1st ever CSP Today Industry Award Ceremony which will take place on the first day of the event in Sevilla. All companies in the CSP supply chain from suppliers to service providers may nominate themselves for the industry awards in the following categories:

• Award to CSP Innovation
• Award for CSP competitiveness
• Award for the best increased dispatchability solution
• Award to best applied R+D in CSP
• Award to best commercialized technological innovation
"CSP companies deserve recognition for the great efforts been made to reduce the cost of solar technologies & innovate." Said Belén Gallego, founder of CSP Today "The first CSP Today Industry Award Ceremony has been created in order to celebrate and promote excellence for this rapid growing industry" she continues
All the nominations will be open until the 15th of October when a committee of experts will go through the nominations and select the 5 finalists. The full expert judge panel will be revealed by CSP Today shortly and it will include respected figures from CIEMAT, SANDIA labs and DLR.
"The winner will then be chosen by popular vote at the summit by the more than 450 attendees. The awards will be handed out to all the winners on the 11th of November by CSP Today."
In order to be able to get nominated, all companies must be active in the concentrated solar thermal industry, be able to demonstrate activity aligned directly with the category and the finalists must be present at the event.
A nomination form and a full description of the categories can be found in www.csptoday.com/eu/awards09.shtml and the full short list of finalists (5 per category will be revealed on the 26th of October)
About CSP Today
CSP Today founded in London in 2007, aims to facilitate the creation of international forums to contribute to the evolution and commercial development of Concentrated Solar Thermal technology and its widespread implementation as a large-scale producer of electricity.
For more information about the 3rd Concentrated Solar Thermal Power Summit on the 11th and 12th of November, with organised site visits pre and post event please visit www.csptoday.com/eu/
For further information on the Awards and to get hold of the nomination form, please visit: www.csptoday.com/eu/awards09.shtml
Belén Gallego
CSP & CPV Today
belen@csptoday.com
Linked in: www.linkedin.com/in/belengallego
Twitter: www.twitter.com/belengallego
Facebook: www.facebook.com/belengallegonewsolartoday
Phone +44 207 3757555
US toll free 1800 814 3459 ext 326
Featured Product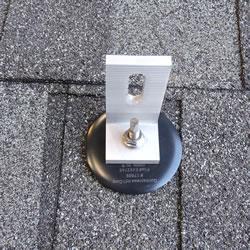 The QuickBOLT is THE affordable mounting solution for Asphalt Shingle Roofs. Not only is it the lowest cost system in the industry, it also maintains the fastest install time of any mounting system available. Unlike other Asphalt Mounting systems that require bulky flashing, the QuickBOLT uses a small EPDM washer and is 100% waterproof! Part # QBKit2