The largest energy producing country in South-East Asia – Thailand – is going big on solar energy, with "getting down to business" as the key theme.
SolarBangkok2010 will focus on doing, not on talking. It will emphasise practical issues such as market development, choice of technology, financing, distribution networks, performance standards and testing, operational practice, and practical government programmes such as feed-in tariff, public procurement, and the issue of permits. Opportunities for partnerships will be actively encouraged with foreign investors and other foreign companies able to help develop the local market. Workshops will aim to establish sustainable working groups, with both government and private-sector participation as appropriate. The conference offers normal exhibition and sponsorship opportunities.

The Thai national plan for solar energy aims at a minimum 15-fold increase in solar energy capacity, from 36 MW in 2008 to 550 MW in 2022. Many participants in the energy sector feel that even those goals may be too modest, and that the potential is far larger: of all types of renewable energy in the latest national renewables plan, solar energy is given the highest potential of all for the country. A guaranteed feed-in tariff of THB 8 / kwh has already produced plans for 92 solar farms with total generating capacity of 250MW.
Growth in solar energy will help Thailand to reduce greenhouse gas emissions, to reduce dependence on foreign supplies of oil and gas, and to open up opportunities to develop a stronger, sustainable infrastructure of local businesses in the field of alternative energy. A wider opportunity is to move up to a position of regional leadership in ASEAN, at a time of massive global growth in the sector: many countries in the world area are doubling deployment of solar energy every year and major new investments are being announced elsewhere in ASEAN.
More details on www.solarbangkok2010.com.
Contacts:
in Thailand:
Ms. Kannikar Srithunyalucksana, Energy for Environment Foundation
+662 642 6424, X151. E-mail: kannikar@efe.or.th
International enquiries:
Ms. Vanessa Shaka, Single Market Ventures, Brussels
tel. +322 537 2603. E-mail: solar@smv-online.com
2009-12-08
Featured Product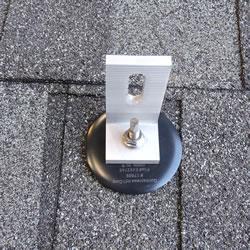 The QuickBOLT is THE affordable mounting solution for Asphalt Shingle Roofs. Not only is it the lowest cost system in the industry, it also maintains the fastest install time of any mounting system available. Unlike other Asphalt Mounting systems that require bulky flashing, the QuickBOLT uses a small EPDM washer and is 100% waterproof! Part # 17672