Mitsubishi Electric has launched its new PV series intelligent power modules (IPM), mainly for use in residential photovoltaic (PV) inverters. The six models, which can also be used in inverters for fuel cell systems, each measure 90mm×50mm.
The mo
unting surface of the new IPM models is about 30% less than that of Mitsubishi Electric's current PV series IPMs launched in 2005. This compact package helps make PV inverters smaller, the company said.
Featured Product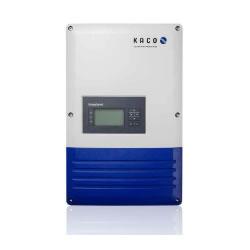 Small size, light weight, great features, best value! With a line-up of 1-phase transformerless units, KACO new energy will be inaugurating the new "blueplanet" solar PV inverter series. Newly designed and constructed from scratch, the blueplanet TL1 fulfil the highest requirements for optimum use in residential solar power plants.