Centroschool launched in the US. It includes comprehensive solar PV technical training and an in-depth presentation on sales tips and techniques. The next two are in Mt. Laurel, NJ-May 13th and Scottsdale, AZ-June 3rd. For more info, visit http://www.centroschool.com and ASES booth #911
CentroSolar America's training program – Centroschool – was launched in Pleasanton California on April 8th at the Sheraton Four Winds Hotel. Over 40 solar installing professionals attended the event.

"The goal of CentroSchool is to guide new installers into the solar business and to help existing ones build their businesses," said CentroSolar America's CEO, Deep Chakraborty. "We have grown sales at 40% every month in 2010, as we signed up dozens of new customers all over the US. Centroschool is a core element of our US expansion strategy. As solar systems become more affordable, thousands of qualified and licensed installers are entering the growing US solar industry to serve the millions of US roofs without solar. They come from electrical contracting, home improvement, HVAC or roofing trades and are very well positioned to take on solar installing. We offer them a complete PV system solution– including training and sales support – to help them succeed". CentroSolar America adapted the solar training format from their German parent, CentroSolar AG, who has been conducting solar training programs in Germany and trained over 500 installers per year since 2007. CentroSchool will be offered twice a month at various U.S. locations.
Susan Wang, CentroSolar's Marketing Manager organized the California event. "In addition to technical training, we provide sales and marketing knowledge, taught by industry leaders to help solar integrators understand the market and learn how to differentiate themselves. Our dealer program is unique in that we provide on-line tools and marketing support for each one of our dealers to give them a competitive advantage," said Wang.
The technical seminar on solar PV grid-tied system design fundamentals was taught by Russ Campbell, CentroSolar's Engineering Manager. "Russ gave me a good understanding of how solar operates, how to install solar and what drives performance", said one HVAC technician looking to expand his business into the solar installation market.
Whitney Rauh, CentroSolar's Strategic Marketing Director discussed the solar site survey process highlighting its importance in closing the deal. This was highly appreciated by one of the electricians who attended the conference: "for an established electrical contracting firm of over 30 years, the learning curve regarding the technical aspects of PV is not as daunting as the sales and marketing processes. Your content was valuable and relevant to our venturing out into the PV industry. "
An in-depth presentation on sales tips and techniques used by integrators was also included in the training. CENTROPRO, CentroSolar's financial analysis, proposal generating and CRM tool is now part of the business tool pallet offered to select CentroSolar dealers as part of the new Dealer Loyalty program.
CentroSolar America recently expanded their national sales team with presence in New Jersey, Florida, Arizona, Southern California, Northern California and New Mexico. The next two events planned are for Mt. Laurel, NJ on May 13th and Scottsdale, AZ on June 3rd. People interested in attending other training sessions can sign up on the company's website at http://www.centrosolaramerica.com and http://www.centroschool.com
You can find Centrosolar America at ASES Solar 2010 at booth #911
About CENTROSOLAR America Inc.:
CENTROSOLAR is among Europe\'s leading suppliers of photovoltaic (PV) systems for roofs and related components, with currently more than 1,000 employees and revenue of more than EUR 300 million in 2009. CENTROSOLAR America offers modules, inverters and racking components as well as complete packaged photovoltaic systems distributed nationwide. The company provides training and tools for new solar installers and contractors. For further information, visit: www.centrosolaramerica.com
For further information, please contact:
info-usa@centrosolar.com
Tel.: 1-877-348-2555
Featured Product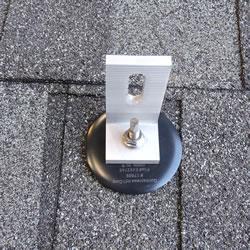 The QuickBOLT is THE affordable mounting solution for Asphalt Shingle Roofs. Not only is it the lowest cost system in the industry, it also maintains the fastest install time of any mounting system available. Unlike other Asphalt Mounting systems that require bulky flashing, the QuickBOLT uses a small EPDM washer and is 100% waterproof! Part # 17672