Lawrence, MA - August 12, 2010 - Solectria Renewables, LLC, the leading U.S. PV inverter manufacturer, announced today that they will now offer a free monthly webinar on a variety of inverter topics including string sizing, web-based monitoring and inverter selection.
The webinar series will be offered to anyone interested and presented by Solectria's sales, engineering and/or marketing teams. Each webinar is designed to approach a single inverter topic and attendees will be invited to ask questions and make comments during the webinar.

Solectria Renewables webinar series will take place one Friday per month at 2pm, unless otherwise announced. The schedule for 2010 is as follows:
• Friday, August 20th, 2010 at 2pm - How to size your solar array utilizing a string sizing tool
• Friday, September 17th, 2010 at 2pm - Solar array web-based monitoring
• Friday, October 22nd, 2010 at 2pm - How to select the right PV inverter
• Friday, November 19th, 2010 at 2pm - Utilizing Solectria Renewables PO Check list
• Friday, December 3rd, 2010 at 2pm - Utility-Scale Solar
Due to the tremendous interest in these webinars, Solectria foresees repeating any webinar that is overcapacity to accommodate all interested in attending.
"This webinar series connects Solectria Renewables to customers, distributors and anyone interested in how to 'connect the sun to the grid' via inverters. We realize that there is a specific need for detailed information about our inverters, string combiners and web-based monitoring. As a result, we created an educational series that will provide these details on a regular basis," said Anita Worden, Chairwoman of Solectria Renewables.
Anyone interested in attending our webinars may sign up via http://www.solren.com/webinar.
About Solectria Renewables, LLC
Solectria Renewables, LLC is the leading U.S. based PV inverter, string combiner and web-based monitoring company for residential, commercial and utility-scale solar projects. Our wide range of products includes 1.8kW to 500kW grid-tied inverters for systems from 1kW to multi-MW photovoltaic systems. Solectria Renewables is backed by over 20 years experience with inverters and other electronic power systems for harsh environments.
To learn more about Solectria Renewables, please visit http://www.solren.com.
CONTACT
Natalie Wiener
Marketing Manager
+1 978-683-9700
natalie@solren.com
###
Featured Product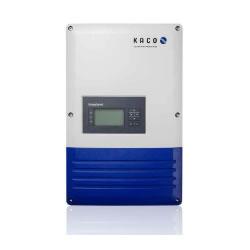 Small size, light weight, great features, best value! With a line-up of 1-phase transformerless units, KACO new energy will be inaugurating the new "blueplanet" solar PV inverter series. Newly designed and constructed from scratch, the blueplanet TL1 fulfil the highest requirements for optimum use in residential solar power plants.