He will discuss his vision for electric utilities as described in his new book, Smart Power: Climate Change, the Smart Grid, and the Future of Electric Utilities: http://www.smartpowerbook.com This will include business models that reflect the new roles and abilities required of utilities
Matthew Deal, Policy and Planning Division Director, will be the Master of Ceremonies, which includes moderating a Q&A session with Mr. Fox-Penner. In order to facilitate the session we encourage those with questions for the speaker to send them in advance of the event. Please send your questions to thoughtleaders@cpuc.ca.gov .

Thought Leaders events are free and open to the public.
Please reserve 10:30 AM to Noon on Wednesday, September 22nd, to join us in the CPUC Auditorium at 505 Van Ness Ave., San Francisco.
The event will also be available via webcast at: http://www.californiaadmin.com/cpuc.shtml.
To complete a very brief registration, please go to https://ia.cpuc.ca.gov/thtleaders/
Featured Product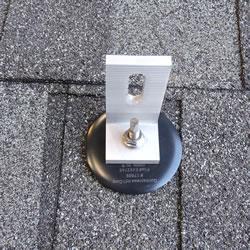 The QuickBOLT is THE affordable mounting solution for Asphalt Shingle Roofs. Not only is it the lowest cost system in the industry, it also maintains the fastest install time of any mounting system available. Unlike other Asphalt Mounting systems that require bulky flashing, the QuickBOLT uses a small EPDM washer and is 100% waterproof! Part # QBKit2