NRG Energy acquires Green Mountain in order to help grow the nation's clean energy, win-win for both companies and environment.
NRG Energy finalizes its $350 million acquisition of Green Mountain Company, the top competitive retail provider of clean energy products and services in the nation.
"Green Mountain, as the preeminent national retailer of green energy products and services, is a great complement to NRG's fast-growing solar and wind portfolio," said David Crane, NRG President and Chief Executive Officer.
"This combination enables us to match green wholesale and green retail in order to meet the American public's growing demand for a fully sustainable alternative energy supplier."
The partnership between NRG and Green Mountain will allow for the expansion of Green Mountain's green products and services, as well as speed up the pace of its expansion into ideal markets and market segments.
Green Mountain will continue operating as a single business within NRG and will continue committing to customers to make positive changes for the environment.
"This acquisition is a win-win for Green Mountain, our customers, employees and shareholders," said Paul Thomas, CEO of Green Mountain Energy Company. "It enables us to continue pursuing our mission to change the way power is made even more rapidly."
Green Mountain was ranked number one in the J.D. Power and Associates 2009 Business Retail Electric Provider Satisfaction Study. Green Mountain, based out of Austin, Texas, services both residential and commercial clientele main throughout Texas and New York.
Green products and services are also delivered to select utilities, including Portland General Electric. The company was also ranked as the number one green utility program by the Department of Energy's National Renewable Energy Laboratory.
Featured Product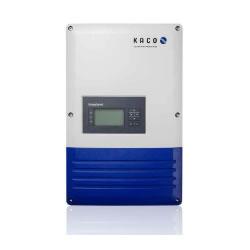 Small size, light weight, great features, best value! With a line-up of 1-phase transformerless units, KACO new energy will be inaugurating the new "blueplanet" solar PV inverter series. Newly designed and constructed from scratch, the blueplanet TL1 fulfil the highest requirements for optimum use in residential solar power plants.