Solar thermal installers and users can now purchase SPP Corn Glycol in 55 gallon drums.
SPP Co
rn Glycol, a propylene glycol developed specifically for solar thermal applications and made in the USA 100% from corn, is now available in 55 gallon drums. The SPP Corn Glycol has superior freeze protection and heat transfer properties for solar water heating systems and is priced similarly to normal glycol. SPP Corn Glycol has been used in 100's of commercial, government and residential installation since 2007. The newly available 55 gallon size is designed to be more convenient and cost effective for solar installation companies.
Featured Product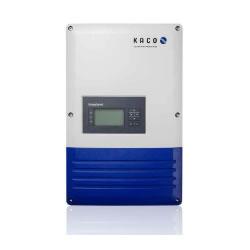 Small size, light weight, great features, best value! With a line-up of 1-phase transformerless units, KACO new energy will be inaugurating the new "blueplanet" solar PV inverter series. Newly designed and constructed from scratch, the blueplanet TL1 fulfil the highest requirements for optimum use in residential solar power plants.